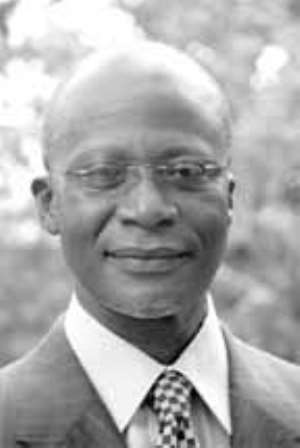 Kwesi Amoafo-Yeboah An independent presidential candidate, Mr Kwesi Amoafo-Yeboah, has said the New Patriotic Party (NPP) and the National Democratic Congress (NDC) cannot dictate terms to Ghanaians as regards peace in this year's presidential and parliamentary elections.
Speaking to the Daily Graphic he said "by their actions the two political parties have demonstrated how violent they can be" and advised Ghanaians to "look at their behaviour and advise themselves accordingly".
Commenting on a front page story in the Daily Graphic of November 20,2008 headlined "NPP makes peace moves, but NDC says no", Mr Amoafo-Yeboah said: "I believe the leadership of the NDC and the NPP must demonstrate to their rank and file that there is no room for violence in the forthcoming elections and if they engage in violence there may not be a country for anybody to rule", he told the Daily Graphic.
He said Ghana was the only country all Ghanaians had and that it is important that we did not allow any political party to disintegrate it. He remarked that "we are only here today as custodians for the benefit of future generations."
As a Ghanaian and a presidential aspirant, he said, he was very concerned about the outcome of Election 2008 and called on Ghanaians to appreciate the fact that the nation was bigger than any political party.
He further called on Ghanaians "to execute a radical change in the December polls and vote into political office a neutral and independent president who will then look to unify the country by selecting the good people from all sides of the political divide to form an inclusive government to focus on the numerous problems that confront all of us together."
He emphasised that the welfare of Ghanaians was paramount in the whole electoral process.
Story By Kobby Asmah