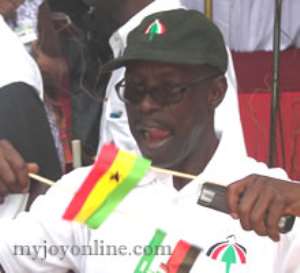 Dr. Tony Aidoo a leading member of the National Democratic Congress on Thursday night staged a walkout on Good Evening Ghana, a live television show on Metro TV.
He cited incompetence on the part of his co-debater Kweku Kwarteng, Government's Spokesperson on Finance, as reason for his walkout.
"I am here to debate policy makers and not their messengers," he charged as he stormed out of the studio.
Tony Aidoo was billed to debate with Dr. Kofi Konadu Apraku, a member of New Patriotic Party presidential candidate, Nana Akufo-Addo's campaign team on the performance of Ghana's economy.
Dr. Tony Aidoo had described as "deliberate misinformation" and "lies", figures bandied about by the NPP administration on the economy, and had requested Metro TV to organise a platform with former Finance Minister Osafo Maafo to set the records straight.
According to host of Good Evening Ghana, Paul Adom Otchere, attempts were made to get Osafo Maafo to debate with Aidoo, but he (Maafo) had to travel at the last hour.
Otchere told Joy News on Friday, Dr. Kofi Konadu Apraku had agreed to represent the NPP but was surprised to see Mr. Kweku Kwarteng instead, some few minutes before the programme had to start.
Paul Adom otchere had earlier informed Tony Aidoo that it was Dr. Apraku who was coming to represent the NPP.
The obvious misunderstanding notwithstanding, programme host Adom Otchere says he appealed to Dr. Aidoo to go ahead with the debate to satisfy the interest of his viewers.
Barely five minutes into the one hour programme, Dr. Aidoo, insisted he was not going to debate with Kwarteng.
He chided the host of the programme for his inability to bring his choice of debator and cited earlier altercations he had with Kweku Kwarteng on another platform - Cross Fire on Joy FM some few months ago, for which reason he was not going to debate him.
Despite several appeals from Adom Otchere to continue with the programme, Dr. Aidoo took off his microphone and walked out in the full glare of viewers.
In his response, Mr. Kweku Kwarteng expressed disappointment over the conduct of Dr. Aidoo, adding he (Aidoo)was afraid of being exposed.
He questioned the competence of Dr. Aidoo on economic issues insisting he had exposed him on numerous platforms.
Mr. Kwarteng however chided producers of the programme for allowing Dr. Aidoo to dictate to them who he wanted to debate.
"I would have expected that an open invitation would be given to the two parties, for each one of them to chose its representative for the viewers to judge," he pointed out.
Tony Aidoo indeed had earlier sworn not to debate Kweku Kwarteng on any platform, following the altercations on Joy Fm's Cross Fire programme.
The two were co-hosts on that programme during which Dr. Aidoo, protested Kweku Kwarteng reading a text message he had received on his personal phone on air.
According to Aidoo, it was not only disrespectful but unprofessional to read personal text messages on air when there was a text number given to listeners who wanted to contribute to the programme.
Kweku Kwarteng however insisted the information, which had come from Kweku Baako Jnr., was important to enrich the programme and the knowledge of the listeners.
Dr. Aidoo failed to make further comments on that programme until his concluding remarks, which he pledged never to appear on the show, or on any other platform with Kweku Kwarteng.
Story by Nathan Gadugah