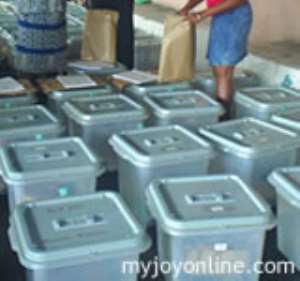 Women groups in the Upper East Region, have pledged to vote for women parliamentary candidates contesting this year's election in the region.
The groups comprised people from the Police Women's Association, Prisons Women's Association, Fire Service Women's Association, Market Women's Association, Hairdressers Associations, among other bodies.
They expressed their commitment on Thursday at a public forum held in Bolgatanga.
The forum was organised in collaboration with Abantu for Development, Non Governmental Organisation (NGO) in the area of gender promotion, Women's Manifesto Coalition.
The Centre for Sustainable Development Initiatives (CENSUDI), an NGO also into the promotion of gender equality, also facilitated the forum which was aimed at getting more people especially women to vote for female aspirants in the upcoming elections.
It was also aim to ensure conflict-free-election and also to analyse some critical issues relating to gender, health, education, food, and the environment.
Speakers at a public forum concurred that a vote for women was a vote for development and conflict free election.
Mr Phillip Ayamba, executive director for Community Self-Reliance Centre, said women issues were central to development and for that matter they ought to be given the opportunity to serve in parliament.
At parliament, he said they would be placed to debate for their welfare and that of children.
He said the ability of women to mobilise and facilitate collective actions could not be overemphasised and so there was the need to make women issues prime in the national body politic.
He said discrimination against women still existed such as such as the inability of women to have access to land, production resources and credit facilities.
Mr Ayamba indicated that it was only morally right that women, who constituted majority of the population, voted for their fellow women to go to parliament to take decisions on their behalf. He said women had vast know-how in home management and could translate that into better policies and policy choices when given the mandate.
Mr Emmanuel Atongi, a retired civil servant, called on women to be peace brokers and peacemakers during the forthcoming general elections.
He called on politicians to restrain their followers from using abusive and libellous statements when they mount platforms.
Mr Robert Alagskomah, Head of Programmes for CENSUDI said the forum was a follow-up to one previously organised.
The Programme Manager of CENSUDI, Madam Mary-Margaret Issaka, who moderated the function, expressed dissatisfaction that limited number of women filed to contest as parliamentary candidates I this year's elections.
Out of the 63 parliamentary candidates from the various political parties in the Region's 13 constituencies, only six of are women.
They are Mrs Agnes Asangalisa Chigabatia, 52 -year-old, an incumbent Member of Parliament (MP) for Builsa North and Deputy Upper East Regional Minister, Madam Mercy Alima Musah, 53, teacher with the NPP for Bolgatanga Central Constituency and Mrs Evenly Lamasi Anabila, 44, Ceramic Technologist vying on the ticket of the Convention Peoples Party, MP for Bolgatanga Constituency.
The rest are Ms Grace Akua Yinmadug, 40, a nurse for the Democratic Freedom Party (DFP), Talensi Constituency, Ms Gifty Ajavuuk, 39, Specialist in Information Communication Technology (ICT), DFP for Builsa South and Ms Rodalin Imoru Ayarna, 50, caterer and CPP parliamentary candidate for Bawku Central.
The Canadian International Development Agency (CIDA) sponsored the Programme.