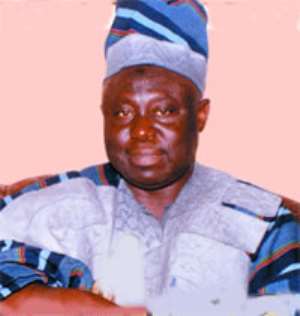 Alhaji Lepowura Mohammed Nurudeen Jawula, Special Advisor to the Minister of Health has launched a brochure on basic facts about diabetes in children as part of the Ministry of Health's campaign to
halt the spread of diabetes in the country.
The brochure would be distributed to all educational institutions in the country to educate students and pupils on the need to live healthy lifestyles
to prevent diabetes.
The Lepowura, at a programme to observe the World Diabetes Day in Accra on Wednesday, said the increasing rate of diabetes among children and adolescents in the country in recent times was unacceptable and called for urgent attempts to halt the situation.
He said urged Ghanaians to read and share the information in the brochure with their friends and family members in order to help spread the campaign on reducing diabetes among the populace.
He said studies had confirmed that about 240 million people world-wide were living with the disease and the figure was expected to rise.
He noted that though preventable to a large extent, people had acquired various negative habits that exposed them to diabetes even at a very tender age.
"Eating so much oily foods, low fibre dietary, avoiding fruits as well as limited or absence of physical exercises, are all poor habits that could lead to diabetes," he said.
Alhaji Jawula advised that since the body needed more water and rest to replenish itself, there was the need for every individual to make time to rest and also ensure a clean and sound environment.
He assured that the National Health Insurance Scheme (NHIS) covered diabetes and children under the age of 18 and they did not have to pay for enrolment unto the scheme but said the disease burden and the expensive nature of treatment in children as a special case could derail Ghana's effort of achieving the Millennium Development Goals if the disease was not controlled.
He called on the youth to lead responsible lifestyles to prevent them from becoming obese or acquire diabetes and other diseases, adding that "we must all strive to boost the acceptance of our traditional foods that have
high nutritional values."
He also advocated a comprehensive research into the local foods to ascertain their nutritional values so that people could make informed choices when selecting foods.
Ms. Elizabeth Baku, Deputy Manager of Non-Communicable Diseases said anti-diabetes promotion activities in Ghana had been very challenging in terms of budgetary allocations.
She noted that the disease was becoming common especially among children who were now being diagnosed with type two Diabetes; a condition that used to affect predominantly elderly persons.
She said statistics indicated that almost 30,000 people tested positive to diabetes at the out patients Departments in public health facilities in Ghana each year, out of which three percent were children.
Ms. Baku called on all Ghanaians to report symptoms of diabetes which included frequent urination, increased thirst and unexplained loss of weight for early diagnoses and also practice healthy dietary routines and frequent exercising.
Source; GNA