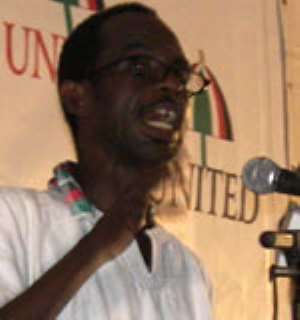 The recent fire outbreak that claimed five lives in Anyaa, a suburb of Accra, has taken a political twist as the opposition National Democratic Congress accuses the police of hiding vital information from the public.
Police initial report claimed the fire may have been caused by a cache of fire crackers present at a warehouse, but added further investigations were being conducted.
However, General Secretary of the NDC Mr. Johnson Asiedu Nketia insists the real cause of the fire was arms and ammunitions stored at the warehouse.
At a press conference in Accra on Thursday, Mr. Nketia maintained the party's security experts have confirmed exhibits from the fire scene revealed guns, plastic shells and cartridges.
This revelation, he maintained, confirmed earlier concerns raised by the party that people with "hidden agendas" were stock piling arms to destabilize the upcoming polls.
He described as disingenuous attempts by the police to attribute the explosion to fire crackers.
"We are being told the cause of the fire was as a result of illegally stored fire crackers. We have reasons to disbelieve that."
The NDC scribe also alleged police and fire service personnel were seen by party faithfuls carrying boxes of arms away from the fire scene.
However, the police say, they have nothing to hide.
Even though several gadgets were retrieved from the scene, Greater Accra Regional Police Commander, DCOP Oppong Buanu has dismissed possibility of they being ammunition.
He told Joy News' Bernard Nasara Shaibu a team of ballistic experts instituted to investigate the cause of the fire was yet to come out with its findings.
He said it was an offence to remove anything on a crime scene without the authority of the police.
He called on the NDC to make available any evidence in their possession and urged them not to create panic among the populace.
He said the owner of the warehouse was still in police custody and would be processed for prosecution.
Meanwhile, Mr. Nketia in an interview with Joy News after the press conference, maintained the police cannot be trusted to conduct thorough investigations into the matter.
"The indecent haste with which the rubble is being cleared, if the police is interested in any proper investigations, they would have cordoned the place for much longer time," he stated.
Asked if they would assist the police with the evidence in their possession, he insist the police must first investigate previous cases brought before them by the party.
"We have given them a lot of evidence which they have not worked on" he said, citing irregularities with some voters' registration cards seized and taken to the police head quarters three months ago.
Security expert at the Kofi Annan peace keeping training centre has however cautioned against the politicization of the case and has urged the police to expedite investigations into the matter.
Story by Nathan Gadugah