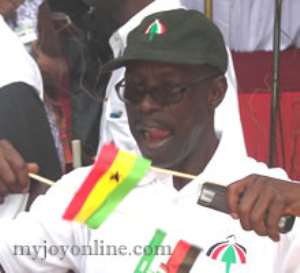 Dr. Tony Aidoo, a leading member of the National Democratic Congress (NDC), has raised questions about government's claim of almost quadrupling the size of the economy over the eight years it has been in power.
He alleged that after carefully studying Ghana's exports and the volume of imports, it is vivid that the New Patriotic Party is making huge gains from the narcotics trade.
In a hot exchange with Dr. Arthur Kennedy, Communication Director of Nana Akufo-Addo's campaign team, with each taking an entrenched position about one's in-depth appraisal of the economy, Dr. Aidoo said when the NDC left office, the annual growth rate was 5.3 per cent, but over the eight-year period, the NPP only managed to register growth of just one percent.
"In terms of the cumulative value of the percentage growth, how then does the economy quadruple or triple and so on and so forth. It is scientifically impossible. So then you ask yourself from where does the millions of quadrupling the economy comes from?"
Dr. Tony Aidoo, a former Deputy Minister of Defence, said the domestic output which registered almost the total GDP growth cannot account for the huge figures being churned out by the government.
Touching on merchandise trade, he said at a point in time, Ghana imported almost twice the value of its exports, meanwhile, its exports comprise mainly cocoa and gold.
"So what has been feeding into the economy to generate that volume of growth, the answer is in the narcotics trade. The narcotics trade is what has been fueling the growth in import."
Tony Aidoo was bent on demonstrating his point and maintained: "I think a substantial contribution has been made by the trade in narcotics, if you look at the structure of the merchandise trade, especially import, and you look at the composition you find out that there is a missing link, that missing link is what I am contending is filled by the narcotic trade".