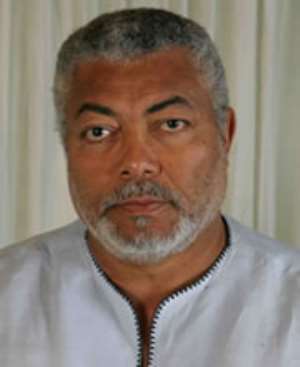 Former President Jerry John Rawlings has urged Ghanaians to prove to the world that they are capable of changing governments through peaceful polls.
"The repetition of what you did in 2000 will prove to the world that our nation is really a beacon of democracy in Africa," he said when he addressed a National Democratic congress (NDC) rally at Anomabu on Tuesday.
Former President Rawlings said in 2000 the people called for a change of government and they effected it peacefully without any hindrance from the then administration.
"After comparing two administrations, the people again are yearning for a change", he said and advised them to effect it peacefully as they did in 2000 and expressed the hope that the government of the day and its agents would not put any impediment in the way of the electorate.
The former President said in 1992 he made a statement to the effect that his government would put both the rich and the poor on level terms but a lot of people misinterpreted the statement.
He said he meant providing amenities that would enhance the living conditions of both the poor and the rich and not in putting the poor and the rich on equal economic status which would be impossible to achieve.
Former President Rawlings said creating what he called a class society as the NPP government had been doing did not augur well for democracy.
Rear Admiral Owusu Ansah, a former Chief of Naval Staff, urged the electorate to choose between the truth and lies when casting their votes.
Dr Ekow Spio-Gabrah, a leading member of NDC, said the government failed to fulfil the one million jobs it promised to deliver to the youth just one month after assuming office.
He said the affordable housing it promised workers could not materialize as the few houses that the NPP government built were priced above the reach of workers.
Dr Spio-Gabrah said it was not correct to say there was rule of law under the NPP administration because the government had failed to prosecute those who killed the Ya Na Yakubu Andani and 40 others, Alhaji Mobila and perpetrators of the recent killings and burning of houses, vehicles and stores at Gushiegu.
Mr. Kofi Adams of the office of the former President said the December 7 poll offered Ghanaians the opportunity to regain independence and urged them to vote massively for the NDC.
Mr. Aquinas Tawiah Quansah the party's parliamentary candidate for the Mfantseman West called on the supporters to be vigilant on Election Day.