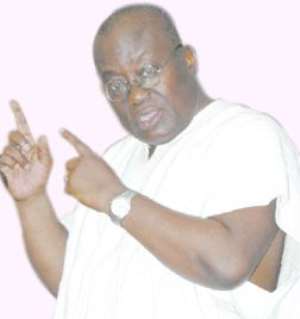 For the first time in sixteen years, the campaign trail of the New Patriotic Party (NPP) shook the foundations of Wa, the Upper West regional capital, with a rally held at Timdamba JHS park.
The rally, which attracted a large crowd, also ignited the hitherto low key political activity in the region. Close to an hour after the rally, Wa experienced one of its worst vehicular traffic jams, especially between the roads from the Wa central market traffic lights through to the junction linking the main Wa-Kumasi road.
Around 12 noon, supporters of the NPP and other sympathisers clad in the party colours, could be seen in almost every part of the municipality, many of them on motorcycles.
Others sat on top of vehicles with blaring music and danced through the principal streets to the rally grounds where they waited anxiously for the flag bearer and his running mate.
Then came the moment they were all waiting for, when Nana Akufo-Addo, followed by his running mate, Dr Mahamudu Bawumia, drove in open top vehicles with smiles on their faces as they waved to the cheering crowds.
After a brief Muslim prayer, the Wa Municipal Chief Executive, Mr Mohamadu Abdul Aziz, set the ball rolling and told the supporters why they had gathered there and why they should vote for the NPP on December 7, 2008.
A Minister of State at the Office of the Attorney General and parliamentary candidate for the NPP in the Lawra/Nandom Constituency, Mr Ambrose Dery, educated the crowd on the ballot paper.
He said the NPP is number one on the ballot paper and that they must be vigilant and always look out for the elephant emblem.
The crowd roared when Nana Addo Dankwa Akufo-Addo preceded his speech with some youthful dance. He stressed the need for all to guard the peace the country was enjoying.
He said politics and elections were about different ideologies and choices and not about war and, therefore, as pacesetters in violence-free democratic elections on the continent there was the need to prove to the entire world that Ghana could also hold democratic elections devoid of violence.
He reiterated his resolve to improve conditions through the Northern Development Authority, which would be supported with seed money of one billion cedis.
This, he said, was the only way to bridge the widening development gap between the north and the south which had compelled most of the youth from the north to migrate to the south to seek non-existing jobs.
Nana Akufo-Addo addressed a similar rally at Tumu in the Sissala East District.
Story by George Folly Quaye
& Chriss Nunoo