Ghana Hosts Gender Justice Confab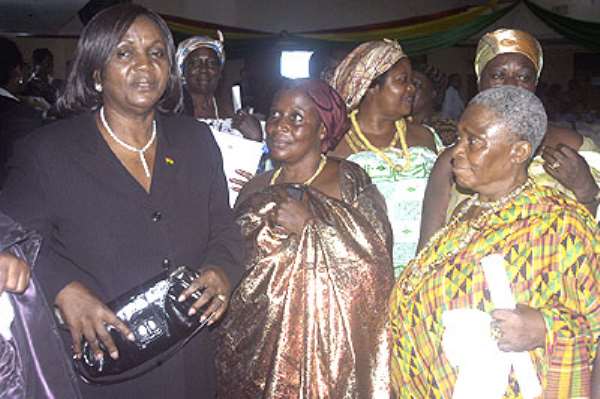 CJ Her Ladyship Justice Georgina Theodora Wood (left) interacting with some Ghanaian Queen Mothers at the Conference
Ghana's Judicial Service in partnership with the United Nations Development Programme (UNDP), United Nations Fund for Women (UNFW), International Association of Women Judges and Brandels University yesterday held a conference in Accra to address the issue of gender justice in African countries.
Speaking at the conference, the Chief Justice of Ghana, Her Ladyship Justice Georgina Theodora Wood, said women in Africa produce 80 % of the food crops , yet their contribution is unvalued and invariably taken for granted.
She observed that women issue are now recognised as human rights issues and are required to receive maximum attention at both the national and international level. She said that the Ghanaian judiciary has taken steps to ensure the establishment of a cluster of courts in the metropolis, to deal exclusively with juvenile justice and other family issues pertaining to women and children.
Justice Georgina Wood emphasised that, laws need to be made clear and accessible to the public especially those pertaining to women, stressing that there is no doubt the conference will empower all to promote women's effective participation in the judicial process.
Speaking on the theme, 'The role of the judiciary in promoting gender justice in African countries', Mr Daouda Toure, the United Nations Development Programme(UNDP) Resident Representative stated that, the meeting is to provide a platform to hold discussions on issues concerning women and children.
He said, women in Africa are the most affected by war and conflicts and are the least educated in most societies, therefore there is the need for stakeholders including, the judiciary, the police, and the economic sectors, to call for a change in the administration of justice in the country.
Mr Daouda Toure pointed out that, Gender Justice requires that women are able to ensure that power holders, whether in the household or community are held accountable, so that actions that limit women's access to justice is on the grounds of gender.
He urged everyone, to be steady as well as sustained reforms and efforts to improve the justice delivery system to enhance access to justice for all.
Click here to view photos