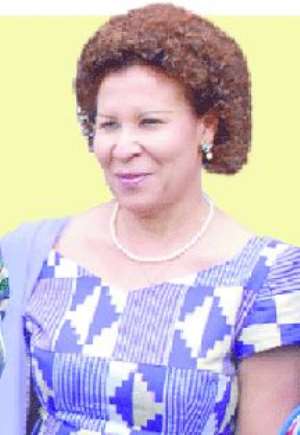 Yvonne, wife of the flag bearer of the Convention People's Party (CPP), Dr Paa Kwesi Nduom, says a CPP government will establish Women's Enterprise Development Fund to offer women the opportunity to access loans at low interest rates.
She disclosed that under a CPP administration, a number of programmes, would be unveiled to help women to improve their lot and urged them to vote the party into power for a prosperous Ghana.
She toured markets in Tema Communities Two, Five and Nine and also Ashaiman to canvass for votes and was welcomed by cheerful market women, who were shouting the slogan "yeresesem" (meaning 'we are changing the status quo').
Outlining the programme, Mrs Nduom said a CPP government would set up a development fund to support women to take up small-scale businesses.
She said the CPP was not making empty promises as was being done by others, stressing: "We shall deliver as we have promised you".
Mrs Nduom urged floating voters to decide wisely by voting for the CPP.
At the Tema Community Two market she was elated when told that the market was built in the 1950s. She said the CPP government would use the same plan to extend the market because it represented the ideal type that women needed.
When she was told by a section of the women that their husbands were unemployed because they were seamen, Mrs Nduom told them of the CPP's intention to revive the seafaring profession to ensure that their husbands were back to work.
She appealed to all women to ensure that their children went to school to give the economy a booster in the future and shook hands with the traders as she went round the markets urging them individually to vote for the CPP.
She later visited the Community Nine and Ashaiman markets and urged them to vote massively for the CPP for development.
Story by Rose Hayford Darko