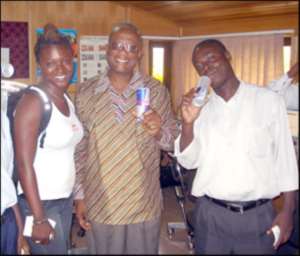 IT WAS around 1:25 pm on Wednesday afternoon when the door of Daily Guide's Editorial Room swung open.
In a bid to catch a glimpse of who has arrived as usual, all staff reporters who were behind their personal computers turned towards the direction of the door only to find a lady in white Red Bull blouse and blue jeans trousers with a haversack on her back standing inside.
"Good afternoon. I am Hannah, a sampling girl from Red Bull. My partner and I are here to offer you free samples of Red Bull to keep you strong."
Just after that she reached into her haversack and started dishing out Red Bull energy drinks to inmates of the room.
The question that immediately came to mind was: "Why Red Bull in my office this time. Am I dreaming?"
But my curiosity was later satisfied when I followed the Red Bull girls upstairs to the corridor leading to my CEO's office and had a short interview with the other partner – Yvonne Tackie.
"We are undertaking this sampling to make people aware that Red Bull drinks are still on the market. This product is good for revitalizing the body and mind especially people who want to be active and wide awake," she stressed, adding, "One tin is equivalent to a cup of coffee."
Asked about when this exercise was going to end, Yvonne said: "It is going to continue throughout this year and into next year. This is free for all Ghanaians."
At GH¢2.00 and above on the market, the product comes in two brands – sugar-free and caffeinated.
A brochure that accompanied the product justifying why it is the latest drink in town said: "An exhausted body and a tired mind can immediately work out the virtues of Red Bull. Numerous scientific studies confirm this." It added that Red Bull also increases performance, concentration and reaction speed, improves vigilance, emotional status and stimulates metabolism.
Infact no sooner had I imbibed the contents ofthe chilled product than I began feeling re-energized. This was because the samples arrived just after I had taken a bowl of 'banku' and okro stew for lunch.
Oh Red Bull girls, how I wish they would come again!
By Samuel Boadi