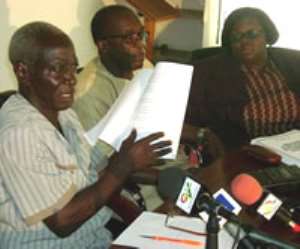 The aftermath of the December 7 elections in Ghana would be determined by the conduct of the Electoral Commission (EC).
Togbega Gabusu VI, Paramount Chief of Gbi Traditional Area said this at an "Election 2008 Issues Platform," organized by the Institute for Democratic Governance (IDEG).
The programme was held on Tuesday for parliamentary candidates from the Hohoe-North, Hohoe-South, North-Dayi and Ho Central Constituencies.
The Platform sought to get the parliamentary candidates to respond to how they would tackle problems of small-scale farming as the major concern of their constituents.
It was under the theme, "Advancing Agriculture Development through Small-Scale Farming: Which Way forward?"
Togbega Gabusu, who chaired the function, said evidence in Kenya, Togo, and Zimbabwe where elections degenerated into violence showed that these were ignited by the omission or commission by their respective institutions that conducted the elections.
He said; "I believe that December 7 will be peaceful.
I do not foresee any violence".
Representatives of the Convention Peoples Party (CPP), the New Patriotic Party (NPP), the National Democratic Congress (NDC), the Peoples National Congress (PNC) the Democratic Freedom Party (DFP) and the Democratic Peoples Party (DPP) took turns to state their respective party's commitment to peaceful polls and outlined their strategies for the agriculture sector.
The Parliamentary candidates proposed diverse approaches they intended to adopt in addressing problems of small scale farming in their respective constituencies.