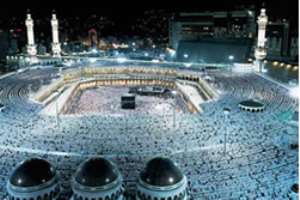 For the first time in several years, a total number of 266 Muslim pilgrims left Accra on Wednesday morning for Mecca to participate in the annual Hajj pilgrimage.
Unlike previous years, this year's first batch left at the scheduled take-off time of 0700 hours aboard an Egypt Air flight.
Another batch is expected to leave later in the day at 2300 hours.
The smooth take-off of the Hajj this year follows the setting up of the Hajj Operations Committee to oversee the pilgrimage in order to ensure that pilgrims do not go through difficulties such as waiting in vain to be conveyed by flights.
At an earlier briefing, Mr Yaw Kwakwa, Deputy Managing Director of the Ghana Airports Company Ltd (GACL), told journalists that 2,300 Muslim pilgrims would be airlifted by Egypt Air within five days.
He said strict measures had been put in place to ensure that pilgrims were not denied their basic comfort at every step of their travel.
Mr Kwakwa, who is also Chairman of the Hajj Operations Committee, said the new measures were to bring an end to the yearly suffering of Muslim pilgrims leaving Accra for Mecca.
The last batch of pilgrims is expected to leave for the Holy city on November 23.