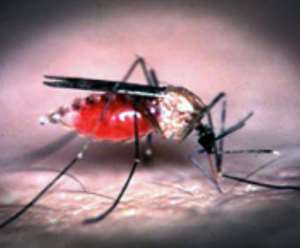 Participants at a day's workshop on malaria prevention, have identified the activities of road contractors, especially at the district level, as a major contributory to the increasing incidence of malaria in the country.
They accused the contractors of executing shoddy works leaving trenches and craters, which "trap" rain water, serving as breeding grounds for mosquitoes and exposing residents to the risk of contracting malaria.
They therefore urged authorities concerned to do thorough inspection of such projects before approving them to save many Ghanaian from the danger of contracting the malaria.
The workshop, which was organised by Devascom Foundation, a non-governmental organisation, formed part of a five-year community malaria intervention dubbed "Mobilising against Malaria".
It was attended by community health volunteers and funded by Ghana Social Marketing Foundation (GSMF) in collaboration with Family Health International (FHI).
Another major cause the participants identified was human activities which leads to the creation of filth in societies and said this must be addressed by the local authorities in society.
They advocated drastic measures to rid communities of filth and said the environmental health departments of the various assemblies must be resourced to enable them improve sanitation.
Miss Adelaide Ansah, a health worker at the Juaso District Hospital, observed that malaria cases had over the years topped out patient department (OPD) attendance hence there was the need to fight the disease.
She said pregnant women and children under the age of five were the most vulnerable and urged them to seek early treatment to avoid complications.
Mr John Arko-Teteh, Executive Director of Devascom Foundation, said the fight against malaria was a shared responsibility, which required the concerted effort of all stakeholders.
He entreated the participants to sensitise people in their various communities, saying reduction in malaria could help promote productivity.