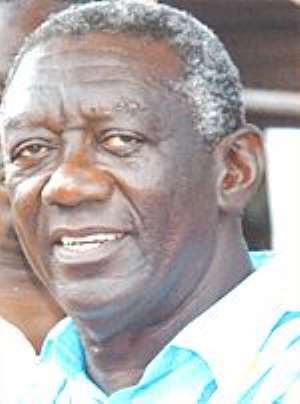 The President John Agyekum Kufour has emphasised the need for peace and stability before, during and after the December 7 presidential and parliamentary elections.
He said peaceful elections were essential for national development and growth and urged Ghanaians to vote for the New Patriotic Party (NPP) for what it has been able to to do for the country.
The President was addressing a massive rally at Ashaiman where he introduced the Presidential candidate of the New Patriotic Party (NPP), Nana Addo Dankwa Akufo-Addo, as the right person to take over from him.
He expressed joy on seeing the large crowd and said the party was sure of winning the seat in Ashaiman which had hitherto been a no-go area for the party.
President Kufour appealed to the people to ignore the promises being made by some parties and vote the NPP for genuine development in a peaceful environment.
He said the government had started to develop the municipality by granting it a new status and would in no time bring other structures to turn Ashaiman into a city.
President Kufour praised Ghanaians for their dedication and hard work  during his term of office and called  on them to extend the same goodwill to Nana Akufo-Addo.                 
He said Nana Akufo-Addo had been one of the big brains behind the scenes in decision making in the party, stating that " one person does not take decisions  in the party".
President Kufour called on supporters of the party to vote for both the presidential and parliamentary candidates to be in tune with their leaders.
Nana Akufo-Addo called on the electorate to vote wisely and not put their destiny into the hands of people who were not productive.
He commended the  administration of President Kufuor for the good and productive work done and promised to continue with the trend.
Nana Akufo-Addo said he would double the size of the police to create a greater security in the country in addition to improving sanitation in the country as a whole.
On rigging of the elections, Nana Akufo-Addo said he was surprised that some people should have that notion because it was rather the NPP party which moved for the introduction of the transparent ballot boxes.
The  NPP flag bearer was of the view that there would be free and fair elections and called for peace and stability.
The rally was attended by stalwarts of the party including the Vice-President Alhaji  Aliu Mahama, Mr Jake  Obetsebi Lamptey, Nana Ohene Ntow and Sheik  I. C. Quaye.
Story by Rose Hayford Darko & Francis Kyei.