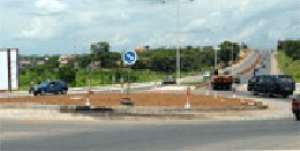 > Kumasi Residents Complain About Roundabouts On New Road
A view of the roundabout in Kumasi There has been public outcry in Kum­asi over the design and construction of the four roundabouts on the newly constructed KNUST Junction-Ejisu Road.
This follows the growing number of vehicular accidents and the resultant casualties recorded at the roundabouts, particularly the one at the KNUST Police Station.
However, some experts say there is nothing wrong with the design, blaming the accidents on recklessness on the part of some drivers.
They said the underlying consideration for the construction of the roundabouts was safety, and that only carelessness on the part of drivers could defeat that objective.
Five persons were killed at the KNUST Police Station roundabout last week when the trailer of an articulated truck disengaged ­and fell on an Urvan mini bus.
Before then, at least four other accidents had occurred on the spot as the vehicles attempted to negotiate the roundabout, but no casualties were recorded in those accidents­. ­Just last Wednesday, another vehicle was damaged when it ran over the concrete structure­.
A number of people the Daily Graphic spoke to said there was no need for the construction of the roundabouts and that traffic lights or speed ramps would have been the best options if the engineers wanted to check speeding on the road.
The three other roundabouts are at Anwomaso, Odu­om and Ejisu. All the four roundabouts looked narrow, as the double lane road turned into a single lane on reaching the roundabouts.
Heavy duty vehicles like articulated trucks have difficulty negotiating the roundabouts­ and some people belie­ve this can easily cause accidents.
But, reacting to the concerns of the public, a research scientist at the Building and Road Research Institute (BRRI), Mr Owusu Tawiah, said, "The design is in order but the only problem is that drivers do not have the patience to slow down on reaching the roundabouts."
He said the Ashanti Region was the most accident-prone in the country and that with the construction of the Kumasi-Ejisu Road, there was the possibility that vehicles could speed to cause accidents on the road.
­In constructing roads of such nature, he noted, safety measures like roundabouts, speed ramps and traffic lights were very important, saying that with regard to the Kumasi-Ejisu Road, the engineers realised that roundabouts were the best option.
He wondered why drivers still managed to speed towards the roundabouts, although speed ramps had been provided close to the points.
He rejected the criticism that the roundabouts were too narrow, saying if drivers would slow down, there would be no accidents on the spots­­.
Story by Kwame Asare Boadu
search archives
Keywords:    
 Issue date:    
  ·  Type either Keywords, Date or both.
  ·  Date examples: 5/30/02, >5/30/02
http://www.gse.com.gh
Weather Forecast | Weather Maps http://www.accuweather.com/index-forecast.asp?partner=netweather&traveler=0&zipcode=AFR http://www.accuweather.com/maps-satellite.asp?partner=netweather
CurrencyConverter
^Top #top
  Copyright © 2008   Graphic Communication Group Limited .  All rights reserved.   http://www.bulletlink.com ^Top login.asp #top