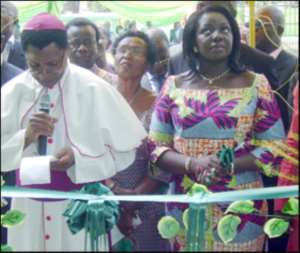 FOURTEEN YEARS after its establishment in 1994, starting with just one branch, Sinapi Aba Trust (SAT), a microfinance organization, through hard work and commitment has opened 39 branches nationwide.
Currently, the organisation has over 70,000 clients in various parts of the country.
Rev. Davies Freeman, Chairman of the company's Board of Directors, who disclosed this in Kumasi last Thursday, said such an achievement was the result of Sinapi Aba's vision of supporting the financially weak in society.
He said this at the official opening of a new office building - Gale House- in honour of Rev. and Mrs. Fred Gale, a US-based man of God at Nhyiaeso in Kumasi.  
The Gale family was commended for contributing hundreds of thousands of dollars towards SAT operations over the last 14 years.
According to Rev. Freeman, SAT is currently the best Opportunity International Implementing Partner in Africa offering non-deposit loans in the West Africa sub-region.
Lady Julia Osei Tutu, wife of the Asantehene and special guest of honour, in a brief remark, urged SAT to continue to support the poor especially women.
According to her, the ability to borrow funds to invest in small income-producing enterprises has enhanced the economic vulnerability of many women and their families.
Mr. Osei Assibey Antwi, deputy Ashanti Regional Minister, in an address recognized the significant role of microfinance services especially in dealing with unemployment.
Micro-finance, he said, is one of the most effective and sustainable strategies to reduce poverty at the grassroots level where people could access credit.
He appealed to the management of SAT to further assist in addressing financial constraints facing small enterprises.
The deputy minister entreated recipients of  loans to exhibit greater enterprise and invest in their businesses so as to enable them pay back the loans.
From James Quansah, Kumasi