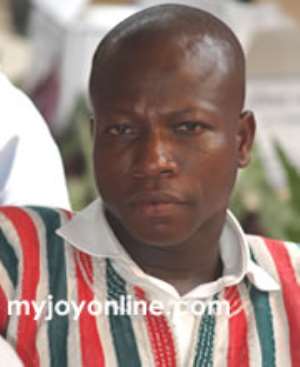 Listen to David Ampofo and Kwabena Bomfeh Jnr. on Super Morning Show
The Convention People's Party (CPP)appears to be in some fix as the party's National Youth Organizer, Kwabena Bomfeh Jnr. rains charges against flag-bearer, Dr. Paa Kwesi Nduom.
With the 2008 general elections due in a matter of days, Kwabena Bomfeh has in a letter circulated to the party leadership challenged Dr. Paa Kwesi Nduom, to purge himself of newspaper allegations that he has been negotiating for ministerial positions with the New Patriotic Party and the National Democratic Congress; and also creating parallel structures within the party.
The campaign strategist of the CPP, David Ampofo, has however called the bluff of Mr Bomfeh, also called Kabila. Ampofo denied the allegations and laid some of his own, accusing the Youth Organizer of being bought, hence his action at this critical moment, which is "nothing but part of the dirty games".
When host of Joy FM's Super Morning Show, Kojo Oppong-Nkrumah, asked for emphasis if Mr Bomfeh had been influenced with money, Mr Ampofo shot back; "No question about it…I have no reasons to think any other way".
He said because the CPP is "riding high" and is capable of causing an "upset" in the elections, its opponent is using all means including "buying everybody they can find" to discredit their candidate.
He did not mince words as he laid the conscience-buying allegation at the doorstep of the ruling party describing their behaviour as shameful.
"When we have an incumbent with so much resources and have no shame about buying people and trying to pretend that they are the only one there then you are not to be too surprised when you see this."
He urged supporters to ignore self-seeking individuals who do not see the big picture ahead of the party.
Asked why Dr. Nduom has remained silent over this mudslinging allegation since September when a newspaper raised the issue, Mr Ampofo said the party would be "doing their opponent a lot of good if we should waste time on the allegation".
"This is deliberate, it is concocted, it is so underhanded and it is pathetic."
James Kwabena Bomfeh Jnr. has rebutted the allegation that he may have been bought and challenged anyone to come out with evidence.
He found it strange that Dr. Nduom, for months, did not deem it fit to come out publicly to rebut the story or at least drag the newspaper to the National Media Commission.
This, among other things, makes it incumbent on the CPP, he said, "to clear the party and purge the party of all doubts and of all difficulties; that is what informed my writing of this letter."
The party's General Secretary, Ivor Kobina Greenstreet has described the content of the letter as worrying and promised investigations.
Story by Isaac Essel