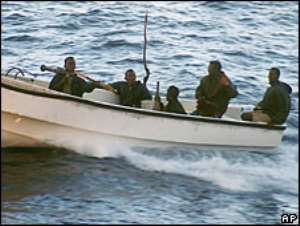 Among the 25 members of the crew of an Iranian cargo vessel seized by Somali pirates - the citizens of Ghana, India, Iran, Pakistan, Philippines, ITAR-TASS news agency reported.
Navy Commander Jane Campbell of the Bahrain-based 5th Fleet says the ship was flying a Hong Kong flag but is operated by the Islamic Republic of Iran Shipping Lines.
There are 36 thousand tons of wheat on board of the cargo vessel. It went to the Iranian port of Bandar Abbas in the Persian Gulf.