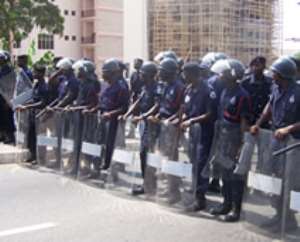 Deputy Commissioner of Police (DCOP), Kwaku Ayesu Opare-Addo, the Ashanti Regional Police Commander, has warned that any act of lawlessness in the electioneering period would not be entertained in the region.
He said the security agencies were adequately prepared and ready to counter any unlawful disturbances.
DCOP Opare-Addo gave the warning at Anhwiankwanta in a two-day simulation exercise held by security agencies in the Amansie East District and other parts of Ashanti Region on Monday.
The exercise, which involved over 500 police and 200 military personnel, was to fully alert the public on the preparedness of the security personnel to combat any act of lawlessness should it happen during the elections.
DCOP Opare-Addo said the law had no respect for persons and stressed the need for people to abide by the law to maintain peace, order and harmony during and after the elections in the country.
He also cautioned journalists to be neutral in the dissemination of news to avoid any acts of intimidation.
Major Amponsah Boateng, the Commanding Officer of the Fourth Battalion of Infantry, explained that election-related issues were mainly for the police since it was a civil matter but the military came in only when the issue escalates.
He, therefore, warned the public, who were bent on causing trouble, to desist from that since the security would not spare anybody caught in the act of lawlessness.
Similar exercises were held at Offinso, Effiduase, Mankranso, Aboabo, Asawasi and Asafo.