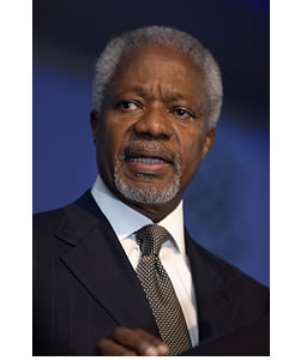 Iowa's schools are among America's most successful. They bristle with new technologies, well-stocked science labs, multi-media centers, after-school programs and more.
Ghana's schools are picnic shelters with interior partitions. They have no electricity, ventilation, running water, gyms, lunchrooms, auditoriums or toilets. Libraries have small collections of old books and perhaps two computers for hundreds of students. A paddle lies in a corner to remind students of the consequence of misbehaving.
I help Ghanaian educators obtain resources such as locally produced textbooks that resonate with students; science kits with which to conduct inexpensive experiments; and new $100 battery-powered laptops. I have spent time in dozens of Ghanaian schools. They have more substance than meets the eye.
No doubt, Ghana's schools could learn something from Iowa's. But could Ghana's schools reciprocate? You bet! Despite scarce resources, Ghanaian schools produce highly literate graduates who are intellectually competent, such as Kofi Annan, the former secretary-general of the United Nations. Ghana, a former British colony in West Africa, is English-speaking. Its schools are modeled on the British system.
A number of factors are at work, including some replicable here: Students respect authority. When the principal enters the room, they immediately rise, standing silently until the principal says, "Be seated." When called on, they answer the teacher's question, followed by "Sir" or "Ma'am." They never call out without being recognized. Every school has its uniform, which all students wear. There is a feeling of order. In Iowa, too, working together, educators and parents can reignite respect.
There are uniform, rigorous national standards. When my daughter was 10, she accompanied me to Ghana. While I worked, she attended a fifth-grade class. She told me the class was doing more advanced learning than her own fifth-grade class at Hubbell. My son later attended an elite Ghanaian high school for a semester. He was enrolled at high-achieving Roosevelt, yet was intellectually challenged in Ghana. We were very pleased with the education our children received in Iowa. Were we too complacent? We should re-examine the rigor of our curriculum.
The school day and year are longer. School runs from around 7:30 a.m. until 3 or 4 p.m. Schools are year-round, with quarterly breaks of one or two weeks. Students are not out of school long enough to regress. This is the one improvement that carries a high price tag. If "First in the nation in education" is more than a slogan, let's ante up.
The quality of teaching is relatively even. Bad teachers are banished. Ghanaian schools are a brand, like McDonald's. You know what to expect when you walk inside. Future teachers focus on pedagogy and content, rather than on the liberal arts. This is reinforced by ongoing training. Consistency, rather than brilliance or mediocrity, results. Ghana's teachers are unionized, too, yet it's understood that students are the No. 1 stakeholders.
Foreign teachers are welcome. The more progressive schools welcome teachers from the United States, Canada and England to come for a semester or a year. Retired teachers and those on sabbatical take up the offer. We could do the same, especially focusing on math and science teachers from countries whose students excel.
Some elements that work in Ghana would not work here. For instance: - Education is compulsory but not free. Tuition ranges from $50 a year in the lower grades to $150 in high school. In a country with a per-capita income of $500, that's real money. As a result, parents buy in, literally. Woe be the child who goofs off, wasting his parents' investment.
- There are no buses, and parents don't drive their children to school. Children walk, often several miles each way. This substitutes for gym and teaches children that education is worth considerable effort.
Iowans have much to be proud of in their state's fine schools. Yet we can do better, even by borrowing from a third-world country. But please, let's skip the paddles!
Credit: MICHAEL V. GERSHOWITZ lives in Des Moines. He's president of Gershowitz Grant & Evaluation Services. Contact: [email protected]
November 17, 2008