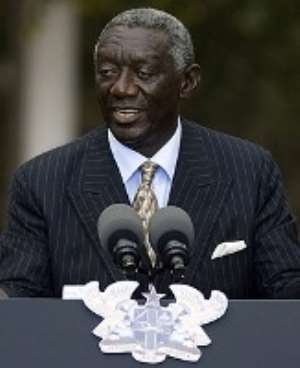 Government has developed a National Water Policy, to serve as a blueprint for water supply throughout the country.
The policy being implemented by Ministry of Water Resources, Works and Housing is in recognition of provision of potable water as critical to promotion of healthy life style and poverty reduction.
President John Agyekum Kufuor announced this at the inauguration of Cape Coast Water Supply Project and Baafikrom Water Supply Expansion Project at separate ceremonies at Sekyere-Heman.
With the completion of the projects, the perennial water shortage and rationing being experienced in the Cape Coast municipality and three other districts in Central Region in the past is now over.
The projects estimated at about 66 million euros, would provide all-year-round safe and reliable potable water for more than a million people in Cape Coast, Komenda, Elimina, Moree, Biriwa, Anomabo in Mfantseman District, Ajumako-Enyan-Esiam and Asikuma-Odoben-Brakwa Districts.
The Cape Coast project involved construction of a 30,000 cubic metre water treatment plant at Sekyere-Heman, laying of 65 kilometres of water transport and distribution mains, reservoir, booster and pumping station as well as rehabilitation of existing headworks at Brimusu.
The Baafikrom project was the construction of a new water treatment plant, transmission and distribution pipelines, new concrete reservoirs, water intake structures and sanitation facilities.
The Netherlands government provided 50 per cent of the funding in the form of grant and the remaining 50 per cent being concessionary loan.
President Kufuor said the policy confirmed Government's determination to improve the living standards of the people.
However, he said as Government lived up to its responsibilities, it was expected that other social partners, especially consumers would ensure sustainability of the sector with sound environmental practices and protection of water bodies.
President Kufuor noted that four out of six major urban water systems in the Region were now ready and work was expected to begin on the Assin Fosu Water Supply System soon.
Funding for the project has already been secured.
President Kufuor earlier in the day cut the sod for work to begin on the 12.2 million euro Kasoa Water Project at Kasoa in Central Region.
The project is designed to connect Kasoa to Kwanyaku Water Supply System through the extension of 400-millimetre pipeline from Buduatta to Kasoa Overhead Reservoir.
Beneficiary communities include, Buduatta, Ojobi, Senya Bereku, Gomoa Fetteh, Awutu-Bereku-Akraman, Gomoa-Nyanyano and Buduburam.