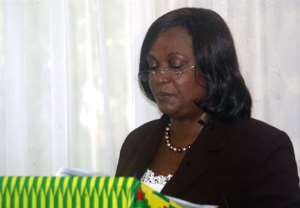 Chief Justice, Her Ladyship, Georgina Theodora Wood
The Chief Justice, Her Ladyship, Georgina Theodora Wood, has said the judiciary is preparing psychologically, logistically and professionally to adequately resolve all electoral disputes that may arise from the December 2008 Presidential and Parliamentary elections.
The Chief Justice said this at the opening of a two- day Judicial Service Workshop on Election Adjudication yesterday in Accra.
The Workshop is to sensitise Appeal and High Court Judges, Court Registrars and other private process servers of the Judicial Service to be abreast with the electoral process, procedural and substantive procedural laws governing the adjudication of electoral disputes and offences.
She added that as part of deepening the democracy of the country, the judiciary has to do everything in its power to meet the expectation of Ghanaians, noting that Ghanaians preferred a non- violence election period which will help them continue their lives in peace.
The Chief Justice stated that the Judiciary as well as other Agencies mandated for ensuring free, fair, transparent and credible elections should play their roles effectively for the good of the nation.
She disclosed that the Alternative Dispute Resolution (ADR) will be used in election dispute adjudication, adding that the 'judiciary owes it a duty to display the full judicial 'menu' and make a full disclosure of tracks on which the wheels of justice runs', stating that ADR is not about power sharing but it is to give parties disposal options outside stressful and costly litigations.
The Chief Justice advised judges to work fairly and effectively in order to fulfil the mission of the Judicial Service which is 'to promote the smooth and efficient administration of justice to all manner of persons without fear or favour, affection or ill- will and in the process create an enabling environment for good governance'.
She urged judges to use words and to resort to judicial language wherever possible, adding that their choice of words must be clearly appropriate and non controversial.