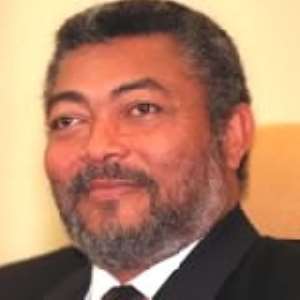 The General Overseer of the Open Arms Ministry in Kumasi, Reverend Kofi Nkansah Sarkodie has prophesied that former President Jerry John Rawlings has been chosen by God as an Apostle to propagate His Word across the world.
Making the prophetic declaration at the Times office here,  Rev. Sarkodie said that "the former president will start his ministerial work in Nigeria very soon".
According to him, God told him during a long spell of meditation recently that He had chosen a Nigerian billionaire to support ex-president Rawlings in his new role.
"God", he claimed, "told me that He has prepared a Nigerian billionaire, an unbeliever who on hearing of the transformation of ex-President Rawlings to an Apostle, would sponsor his apostolic ministry and mobilise people for the ministry."
Rev. Sarkodie, popularly known as "Brother Sark", said ex-President Rawlings' ministry will grow so fast and wide to the levels of the Oral Roberts and Reinnhard Bonnke Ministerial organisations."
Urging Ghanaians not to treat the prophecy with contempt, Rev. Sarkodie said, "God has His own way of doing things, including using people to glorify His name".
Touching on previous prophecies about the former President, Rev. Sarkodie said, "God told me that he has hesitated to heed the call due to some reasons notably mistrust arising from the hypocrisy and sycophancy on the part of some of the country's religious leaders".
"Ghanaians have been wailing for about a decade to see the prophecy come true but let me tell you, my brother, that God does things in His own time and this is the time, He has chosen for the former President to start spreading His word," he said.
Rev. Sarkodie also discounted fears that the ex-Rawlings would plot a coup d'etat. He said the former President has had his time and God, has a new role for him.  "Preaching God's word is what he will do."