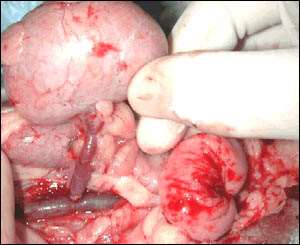 THE KORLE-BU Teaching Hospital in Accra has become the first health care centre in the country to successfully carry out the first ever kidney transplant.
A team of 11 medical officers led by Dr. Andrew Ready from Queens Hospital in the United Kingdom and their colleague doctors in Korle-Bu performed the surgery on three patients at the Surgical Department of the hospital.
The patients, all males, are currently on admission and would soon be discharged.
A maximum of 5 hours was spent on each of the surgical operations.
Briefing newsmen in Accra last week, Professor Nii Otu Nartey, Chief Executive Officer of the hospital said it took the team hard work and selflessness to chalk such a success not only for Korle-Bu but the entire country.
He said the entire programme was made possible by kind courtesy of Ecobank and Cal Merchant Bank which gave financial support for the operations.
He therefore assured Ghanaians of Korle-Bu's commitment to continue providing quality health care to its numerous clients, adding that financial and material support was needed from the Government and corporate organisations to achieve this.
Explaining the process by which such operations were done, Dr. Andrew Ready, the Chief Surgeon said renal (kidney) donors are first of all mentally prepared; taken through careful medical examination to check the efficacy of the kidney, after which an hour-long operation is performed on them to remove one of their kidneys for transplanting on the kidney patient.
Such operations, he explained, are usually done with extra care because of the sensitive nature of the human kidney.
He commended Doctors Charlotte Osafo and Bernard Morton and other local medical officers at the Urology Unit for their assistance in making the operations a success.
He expressed the UK team's readiness to help in the training of selected Ghanaian doctors yet to be signed up for a 2-year training programme abroad.
Health Minister Courage E.K. Quashigah was full of praise for the success chalked, saying the MOH was ever prepared to render the support needed for effective and efficient health care delivery in the country.
He used the occasion to reiterate his call on the Ghana Education Service (GES) to include health education in the school curricula to help pupils adopt healthy and transformed lifestyles.
Present at the briefing were Mr. Samuel Ofosu-Armaah, Korle-Bu Board Chair, Prof. Andrews Ayettey and some staff of the hospital.