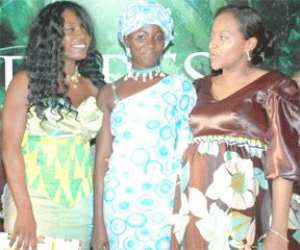 Three out of seven students from the Joyce Ababio VogueStyle School of Fashion in Accra, who participated in the Redds African Fashion Design Awards (RAFDA) show put up stunning performances and succeeded in picking the first three prizes at stake.
The competition, with the theme "Go Wild" encouraged the 10 amateur contestants to create their own designs.
Out of the 36 entries, only 10 were selected to show case their designs at the gala dinner night held at the plush Holiday Inn.
Abibatu Issah, a product of VogueStyle emerged winner for creating the best evening attire. Her victory qualified her to represent Ghana in Botswana next week, November 22, at the Redds African Design Awards.
She would face other contestants from Tanzania, Zambia, Mozambique, Kenya and Botwana. The winner takes home US$5,000, an all expenses paid up trip to Cape Town Fashion Week 2009 and a one week internship with leading South African designer, Sonwabile Ndamase of Vukani Fashion.
Brigitte Ibrahim was the first runner-up, while Gloria Larbi was the second runner-up.
Mrs Joyce Ababio, Director of the school congratulated the winners for making the school proud and urged all past and present students to be guided by the fact that three amateurs have put the school in high the esteem.