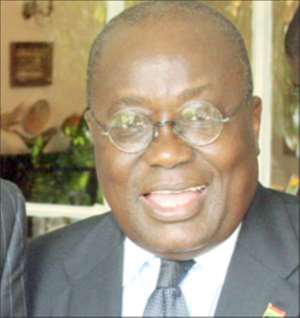 Nana Addo Dankwa Akufo-Addo, flagbearer of the New Patriotic Party (NPP), has called former President Jerry Rawlings to order, slamming him for reportedly promoting tribalism in the ongoing electoral campaign.
Nana Addo's apparent beef with the former President was because of a statement the latter had made to the effect that nobody from the Volta Region should vote for the NPP because the ruling party hated the people of that region.
The NPP presidential candidate said it was unacceptable for Jerry Rawlings, founder of the National Democratic Congress (NDC), to promote ethnocentrism.
Mr Rawlings was reported to have made utterances based on exaggerated tribalism during a campaign tour of the Volta Region.
Nana Addo maintained that the former President had no right to use tribalism as a political tool, as it had the potential of inflaming passions and leading to tribal conflicts.
According to the NPP flagbearer, the statement from the former President, apart from being a blatant lie, was intentionally calculated to incite the people of the Volta region against the NPP.
"Are these the type of people who want to lead Ghana? No way! We do not accept the politics of tribalism where people try to generate the hatred of one tribe against another or against another group of people," Nana Addo noted during a campaign rally at Jomoro on Sunday.
The NPP flagbearer called on Jerry Rawlings to avoid utterances that encourage tribalism and rather make statements that promote national unity.
He said the NPP did not belong to any particular region in Ghana and did not hate the people of any region.
"Ours is not a party that can be confined to any particular region. We belong to Ghana and all Ghanaians. We do not care which part of Ghana you come from and once you are a Ghanaian we take you as being the same as us; you are part of us," Nana Addo added.
He said there was no way the electorate would give their votes to the NDC during the December 7 polls as the party had nothing good to offer Ghanaians.
"We are not going to entrust the destiny of our country into the hands of incompetent, unproductive, ineffective and ineffectual Ghanaians; the country needs to move forward," he declared.
Nana Addo, speaking on a similar issue at the party's rally in Ashiaman, a suburb of Accra, noted that it was also untrue that the NPP had plans to rig the polls and destabilize the country.
He said the NPP had come a long way with regard to promoting and defending the country's democracy and would not do anything to jeopardize it.
By Halifax Ansah- Addo