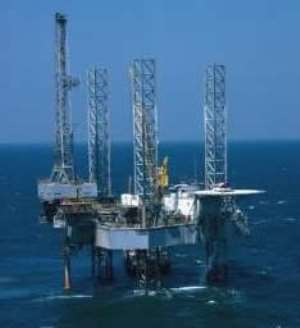 Oil prospector Tullow Oil has said it is set to drill what it called 'potentially transformational wells' in Uganda and Ghana over the next few months.
Over the last few months, the company scored major successes in an ongoing drilling programme in the Butiaba region near Lake Albert in Uganda according to its interim management statement for the period July 1, 2008 to November 12, 2008.
In Block 3A the Kingfisher-2 appraisal well was completed in August and flowed at a combined rate of over 14,000 bopd from three reservoir zones, thereby proving up a significant discovery.
The Kingfisher-3 appraisal well, which is testing further upside potential, was spudded in late September and is currently at a depth of 2,670m.
The Kingfisher-3 well is expected to intersect the reservoir in late November. The next well in this campaign will be Ngassa-2 in Block 2, which is scheduled to spud in February 2009.
The statement said the group has maintained its 100% exploration success record in Uganda with four further discoveries.
According to the statement, the Butiaba drilling campaign continued over the period resulting in four additional discoveries - Karuka, Kasamene and Kigogole in Block 2, and Warthog in Block 1. "The discoveries at Kasamene and Warthog are of a significant size and have de-risked the remaining prospectivity in the area," the statement reads in part.
The two wells, it said, have also increased the likelihood of achieving the reserve volumes required for a major development.
Two more prospects, Buffalo and Giraffe, are set to be drilled in Block 1 before year-end.
Tullow's business has continued to perform strongly over the second half of 2008.
In Ghana, the company reported that excellent progress has been made on development planning for phase 1 of the Jubilee development offshore Ghana.
"Project sanction and Government approval are expected before year-end and the project is on track to deliver first oil in the second half of 2010," the statement reads in part.
All major equipment for Phase 1 has been secured, four deepwater rigs have also been contracted for an extensive exploration, appraisal and development drilling programme.
"Tullow's business is entering an exciting phase of exploration, appraisal and development activity," the statement said.