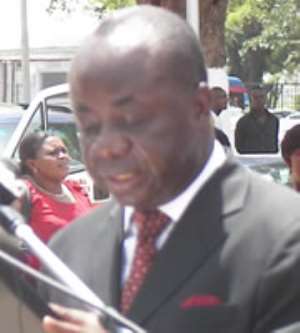 The leadership of the convention people's party appears to be at their wits end trying to deal with "behaviour" of Freddie Blay, aspiring Member of Parliament for Ellembelle.
The incumbent MP was over the week end endorsed by the NPP presidential candidate Nana Akufo Addo, at a rally in Essiama, stoking the fire of disagreement that existed between him and party executives.
The party had earlier resolved disagreements about the allegiance of Mr. Freddy Blay to the CPP after a botched legal attempt to declare his parliamentary primaries illegal.
In an interview with Joy News, Mr. Blay justified his recent endorsement, claiming his ultimate ambition was to retain the seat.
"There is nothing wrong in some other party endorsing my ticket. If the NDC decide not to put up a candidate and they will endorse me, I will be happy. If they call me to their party rally to introduce me to their teeming supporters that they should vote me, I will be happy with that. If you find something wrong with it, its your problem, I don't find anything wrong with it."
But party hierarchy appears to be divided over the next line of action to be taken against the Ellembelle MP.
Party treasurer, Mike Eghan expressed disappointment over the incident, insisting the leadership would convene a meeting to decide what punitive measures to take against Mr.Blay.
In a sharp contrast to the treasure's assertions, the General Secretary of the party, Ivor Green street said Blay's behaviour has been endorsed by the CPP.
He explained the party was anticipating such an endorsement.
"Once the party had maintained Mr. Blay as the parliamentary candidate, fully aware that the NPP failed to fill any candidate, the eventual endorsement was the likely scenario."
He insisted the party was not going to take any punitive measures against the Ellembelle MP.
"Why should the party consider sacking a candidate who they have endorsed and whose behaviour they have endorsed?" Ivor Green street told Joy News' Araba Koomson in a separate interview on Monday.
Story by Nathan Gadugah