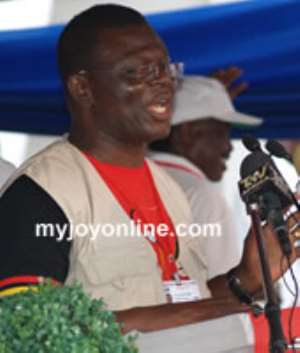 The Director of Operations at the Electoral Commission, Mr. Albert Kofi Arhin has described as frivolous and ridiculous allegations that the EC was prepared to rig the elections in favour one particular party.
He said the electoral process was so transparent that rigging the polls particularly by officials of the commission was impossible.
Mr. Arhin was speaking at a day's training workshop for media practitioners in Accra.
The workshop was to equip the media personnel with the requisite knowledge to enable them report accurately the December 7, elections.
The Director of Operations said the electoral process was such that it was possible for political parties to track every activity.
He said political party representatives were present at the various printing houses printing the ballot papers.
According to him, the number of ballots for each constituency and the additional ballots for the sake of spoilt ballots was known right at the printing level.
After the ballots are packed they are sealed and the numbers, seals, and serial numbers taken by the party representatives.
The ballots are sent to the regional police armouries under security.
Mr. Arhin explained that when the ballots are about to be dispatched to the various constituencies and polling stations, the party representatives are there to verify the seals and other details.
At the polling stations, the total number of ballots is known, the number of ballots issued to voters is tracked and the number of ballot papers spoilt is also known to the polling agents of the political parties.
At the end of voting, the number of ballots issued plus unused ballots and spoilt ballots must equal the total ballots sent to the polling centre.
Mr. Arhin said the process is so transparent that if anything untoward happens at any stage it can easily be tracked because the numbers will not tally.
According to him, when votes are countered the numbers are written and signed by the presiding officer and carbon copies of the results given to party agents.
"After this no one can tamper with the results again, not even the Commission Chairman," he noted.
He stated that "anyone who says we can go to a computer room and manipulate the figures is being mischievous".
He stressed the need for party agents to be vigilant at the polling stations since that was where elections were either won or lost.
The EC's Operations Director was not happy with the situation where some party agents left the polling centres if their parties or candidates failed to do well.
The General Secretary of the Ghana Journalists Association, Mr. Bright Blewu cautioned journalists against making definitive statements regarding results of the elections.
He advised that they should refer all results as provisional until the results are certified by the EC.
Story by Malik Abass Daabu