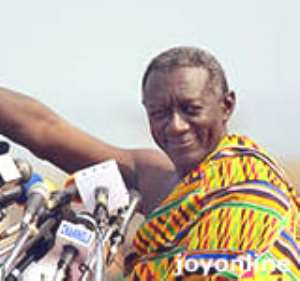 President John Agyekum Kufuor has given the assurance that government would do everything possible to ensure peaceful elections in December.
He said the whole world, especially adherents of democracy, was looking up to Ghana to conduct peaceful polls in the wake of the political crisis that had afflicted most countries on the African continent.
This was contained in a peace message delivered on behalf of the President by Madam Patricia Appiagyei, Kumasi Metropolitan Chief Executive at a special non-denominational church service, organised by the Ashanti Regional Local Council of Christian Churches in Kumasi on Sunday.
The event was held under the theme, "Praying for the Peace and Prosperity of Ghana" and aimed at affording Christians the opportunity to seek God's favour and intervention for peaceful elections.
President Kufuor observed that Ghana has since time immemorial remained a role model and fore-bearer of democracy in the Sub-Saharan Region and Africa in general, and as such well-meaning Ghanaians should be determined to protect this enviable record to retain the nation's image.
He entreated political leaders to conduct themselves well and at all times impress upon their supporters to be tolerant of divergent views, since multi-party democracy was not about vandalism, violence and confusion.
The President stressed that multi-party democracy was about promoting the welfare of the citizenry through good governance, upholding rule of law and freedom of speech and that committed politicians should abide by these principles before, during and after the elections for the accelerated socio-economic development and political stability of the country.
He commended the Ashanti Regional Local Council of Christian Churches for organizing the prayer festival and hoped the event would go a long way in ensuring peaceful elections.
Otumfuo Osei Tutu II, Asantehene, in a message, tasked the youth to resist the temptation of being lured into violence by self-seeking politicians.
Right Reverend Daniel Yinkah Sarfo Anglican Bishop of Kumasi admonished religious bodies to brainstorm, fast and pray fervently to help avoid mayhem and blood shed in the event of the elections as had happened to some African countries such as Sierra Leone, Rwanda, Kenya and Zimbabwe.