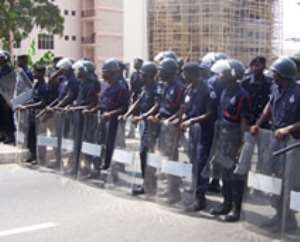 Two hundred members of the Western Regional Security Taskforce drawn from the various security agencies on Sunday undertook some simulation exercises at selected polling stations in the Sekondi-Takoradi Metropolis to test their readiness to support a peaceful conduct of the December elections.
The simulation exercise that started at about 0600 hours comprised personnel from the Police Service, the Military, the Immigrations Service, the Fire Service, the Electoral Commission and the Red Cross.
It focused mainly on the communication and mobility capability of the Taskforce in its response to emergency situations during the elections.
As at about 1400 hours seven scenarios out of 25 expected to be dealt with had been enacted at seven different polling stations, Mr Mohammed Ahmed Alhassan, Western Regional Police Commander told reporters at Sekondi.
The scenarios enacted were basically on security and other critical issues that cropped up at some polling stations in previous elections and were likely to reoccur during the upcoming elections.
They were designed to deal swiftly with problems such as the destruction of voting by "Macho" men, minors who attempt to vote and health support for election officials and the general public who may have been taken ill suddenly.
Another scenario was how to deal with incidents where unscrupulous persons may try to attack sensitive public institutions and installations on Election Day, because all attention would be focused on the elections.
Mr Alhassan said during the exercise few challenges, including the quick identification and location of polling stations because of the absence of street names or numbers in many communities.
The Regional Police Commander said all flash points in the region had been identified and enough strategies had been evolved to check any violent incident.
The simulation exercise would continue until early morning on Monday.