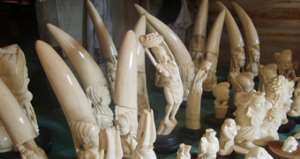 A team of 96 personnel from the Ghana Police Service, Interpol and the Wildlife Division of the Forestry Commission at the weekend raided 11 shops at the Arts Centre Market and seized 500 kilos of suspected ivory products and raw elephant tusks valued at GHc350,000.
The team, comprising 15 wildlife officials, 80 police officers and one Interpol representative, also arrested 11 shopkeepers and shop owners to assist the police in investigations into the possession and trade in elephant tusk and ivory products, which have banned since the 1960s.
Nana Kofi Adu-Nsaih, Executive Director of Wildlife Division, told journalists that the Wildlife Conservation Regulation, LI 685, 1971, makes the killing of protected wildlife, including elephants, illegal. The amended law, LI 1284, 1983, makes the possession of wildlife by-product illegal.
Those arrested included Tahiru Haruna, Razak Tahiru, Yakubu Osman, Sumaila Alhassan, Jibril Alhassan, Musa Ali, Garba Ibrahim, Atta Issah, Mohamen Kabiri, Yakubu Benjamin and Rose Mensah Akoto.
Nana Adu-Nsiah said the Wildlife Division had a list of persons who were allowed to possess ivory products legally and none of the persons arrested was on the list.
The suspects were sent to Ministries Police Station but were later released on bail pending further investigations, including forensic test, to verify whether the seized items were actually ivory products.
Assistant Superintendent of Police Fii Ochil, District Commander of the Ministries Police Station, told journalists that the suspects would soon be arraigned before court and those found guilty would either be sentenced to terms not more than 12 months or be fined 200 penalty units or both.
"The court would then decide what should be done with the items, whether to be kept as state possession or destroyed," he said.
He said statements taken from the suspects indicated that most of the items were imported from Cameroon, Gabon, Nigeria, Togo, Cote d'Ivoire, Angola and Benin. Almost all the items came into the country already polished and carved.
"We also realised that their major customers are Chinese, Japanese, Italians, Arabs and a few Americans and Ghanaians," he said.
Mr Ochil said the police were still investigating how the products got into the country.
The raid formed part of an exercise, code named "Operation Baba – Shut Down Illegal Ivory Markets in Africa", which took place simultaneously in known elephant tusk and ivory product markets in five African countries.
The countries were Ghana, Kenya, Uganda, Zambia and Congo (Brazzaville).
Operation Baba was designed by the Interpol Working Group on Wildlife Crimes to stem the illegal trade in wildlife by-products, particularly ivory products which seemed to go on undercover with Asian countries, notably China and Japan, in spite of the global ban.
In all, 57 suspects were arrested in the five countries and more than 1,000 kilos of suspected ivory products and raw elephant tusks were seized.