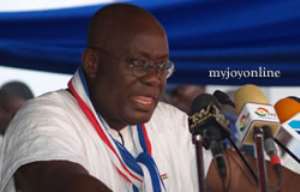 Nana Addo Dankwa Akufo-Addo, Presidential Candidate of the New Patriotic Party (NPP), has said that it would be a misplaced judgement to entrust the destiny of Ghana into the hands of the National Democratic Congress (NDC) again.
Speaking at separate rallies at Daboase, Abuesi, Kojokrom, Adiembra and New Takoradi during his two-day campaign tour of the Southern Sector of the Western Region, he said the NDC let the country down and would give the people sorrow and economic hardship when given power.
He said Ghanaians have lost confidence in the NDC to develop the country.
Nana Akufo-Addo said his government would continue from where President Kufuor would leave-off adding his government would focus on industrialization.
Nana Akufo-Addo said the oil revenue would be judiciously used and hoped to make Senior Secondary School free.
He said his government would construct a District Hospital at Daboase and sea defence wall along the coast to stop erosion and enforce the law to protect sea resources.
Nana Akufo-Addo said the NPP does not endorse tribal politics and the claim that it was an Ashanti party was unfounded because its' membership are drawn from every tribe.
He said he is not in politics to enrich himself but rather to protect human rights and promote the rule of law.
Mr Yaw Osafo-Marfo, a former presidential aspirant of the NPP said the party inherited 235 million dollars in the national coffers, an amount that could cater for the needs of the Ghanaians for only three weeks.
He said with only few weeks to the December 7, 2008 elections the NPP government had 2.6 billion dollars in the national coffers.
Mr Peter Mac Manu, National Chairman of NPP, said the party had trained about 50,000 polling station agents to ensure that the electoral laws were obeyed on the day of election.
He said Ghanaians have understood democracy and there was no need for electoral violence.