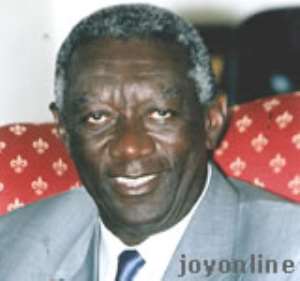 President John Agyekum Kufuor has said that with the rapid increase in population, the government alone could not continue to be the major employer and it was therefore essential for entrepreneurial skills to be introduced at all sectors of the educational system.
This was contained in an address read on his behalf at the Second Congregation of the Presbyterian University College (PUC) at the Okwahu Campus at Abetifi on Saturday.
He called for the review of the content of the syllabus and areas of specialization for the educational system to produce the right skills in their right quantities to meet the manpower requirements of the country to move the nation from primary economy onto the threshold of industrialization.
President Kufuor called for the educational system to be used to consolidate the young democracy of the country by introducing the pupils in basic schools and students in secondary institutions to the principles of democracy through their textbooks.
He said the present educational system placed less emphasis on creativity and practical training which were essential tools for the maintenance of a manufacturing economy.
President Kufuor urged all managers of the various educational institutions to change their educational systems at all levels to expose the pupils and students to techniques that would make them innovative, analytical and creative.
The Chairman of the University Council, Mr Sam Okudzeto, said the state policy on funding tertiary education was discriminatory against Ghanaian students in private universities.
He said while students in public universities receive free tuition and had access to teaching and learning facilities which had been established with funds from the GETFund, those in private university were denied such facilities and had to pay for their tuition.
Mr. Okudzeto, therefore called for adequate support for the private universities since they were producing equal human resource needed for the nation as well as going into commercial agriculture to increase the country's food requirement.
The Principal of the PUC, Professor Kofi Sraku-Lartey said 155 students graduated in BSC, Business Administration and BSC/BA in Information and Communication Technology(ICT) .
He said the PUC, which was established five years ago at Abetifi have two other campuses at Akropong-Akuapim and Asante-Akyem, Agogo with faculties for Business Administration, Health and Medical Science respectively.
He commended the graduates for their performance and urged them to impact the knowledge acquired effectively wherever they might find themselves to enhance the nation's development.
The Moderator of the General Assembly of the Presbyterian Church of Ghana, Rt. Rev. (Dr) Frimpong Manso said the Church established the university to provide tertiary education for the over 400,000 pupils and students in the various church institutions to complement government efforts in training the country's human resources.
He gave the assurance that the Church would support the university college to produce a holistic individuals imbued with Christian principles and values who could positively effect and sustain change in the technological global world.