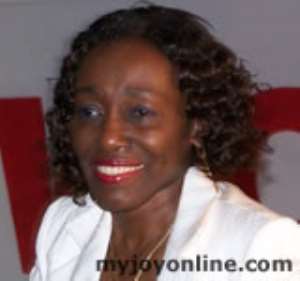 Nana Addo Dankwa Akufo-Addo, New Patriotic Party presidential candidate for Election 2008, has been challenged to tell Ghanaians which aspect of senior high school education he intends to make free if elected as President.
Nana Konadu Agyeman Rawlings, the former first lady, said the call was necessary because already tuition, sports, culture and entertainment were free in secondary schools.
She was addressing separate rallies organised the by Gomoa West constituency of the National Democratic Congress (NDC), at Apam, Mumford and Eshiem in the Central Region at the weekend.
The former first lady urged the electorate to discard Nana Akufo-Addo's blanket statement that he would make senior high school education free because it was not feasible.
She asked politicians not to toy with the country's education since it formed the bedrock of development and the surest tool for the elimination of poverty.
Nana Agyeman Rawlings said the NPP Government was finding it difficult to pay feeding grant for senior high schools in the Northern, Upper East and Upper West Regions.
She said dealers in food items always pressurized school heads in the regions for payment for supplies made to educational institutions.
Nana Agyeman Rawlings said grants were released after the heads threatened to close down the schools.
She said "if the government could not pay feeding grants to the few secondary schools in the North promptly what do you expect the situation to be when those in the whole country are taken on board".
Nana Agyeman Rawlings said even though Capitation Grant given to basic schools was a constitutional obligation, the way it was being managed left much to be desired.
The former first lady said she received report that Capitation Grant for the third term of the last academic year and that of the first term of this year had not been paid to schools.
She asked "how do they expect the schools to be run when they have warned heads not to collect any money from the public?'.
Nana Agyeman Rawlings said the fallen standards of education in the country were due to the way the Capitation Grant was being managed.
She said only less than five per cent of schools were enjoying the School Feeding Programme since it was started about four years ago.
The former fist lady said "I am not a prophet of doom but I can foresee that the investment parents are making in education would go down the drain if Nana Akufo-Addo is voted into power to implement his free secondary education."
Ms. Shirley Ayittey, National Vice Chairperson of NDC, said the party would invest in the welfare of the people when voted into power.
Mr. Francis Arthur, NDC parliamentary candidate for Gomoa West, called on the electorate to consider Election 2008 as an opportunity for them to liberate themselves from the bad policies of the NPP which had impoverished them.