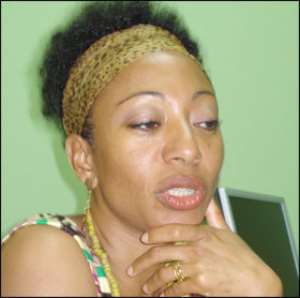 Samia Nkrumah has denied claims by her opponents that she is being supported by the ruling New Patriotic Party (NPP), describing the allegations as cheap attacks on her person.
Samia, who is the daughter of Ghana's first President, and the Convention People's Party (CPP) parliamentary candidate for Jomoro says she is being attacked because other parties consider her a threat to the seat.
In an interview with Citi FM posted on ghananewstoday.com, the parliamentary aspirant said, "I am not surprised that this approach is coming from other parties, particularly the NDC.
People can see that we are serious and we want to make a real difference in their lives, and I believe that's why I am being attacked in such a cheap manner," she said.
There are stories making the rounds that Samia is being sponsored by the New Patriotic Party (NPP) because of the oil find in the Jomoro constituency. Some of the stories say the NPP is considering a withdrawal in the parliamentary race in the constituency so she could win.
Samia who barely speaks her native tongue but is making waves in her constituency explained that she is conducting a clean campaign and she has not attacked anybody.
"We are conducting our campaign on the other hand free from personal attacks. I have not said anything against anybody, because that's not the issue," she said.
She also contended that "we have no time, we are reaching out to the people, we are going everywhere with our message and people can feel and sense our sincerity and seriousness."
Samia said she has not criticized anyone in a cheap manner, and wondered why her opponents were attacking her unnecessarily.
She stressed that she was contesting the Jomoro seat because the people of Jomoro have asked her to.
"Nobody has asked me to contest the seat. I have been here since March, the only people who have asked me to contest the seat, are the people of Jomoro," she said. Citi Fm