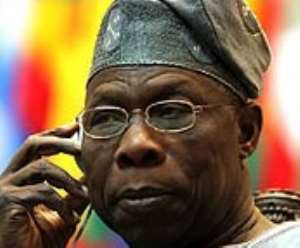 UN special envoy Olusegun Obasanjo has arrived in the east of the Democratic Republic of Congo, where he is due to meet rebel leader Laurent Nkunda.
He said it was important to find out exactly what Mr Nkunda wanted.
Mr Obasanjo, the former Nigerian president, met President Joseph Kabila on Friday, and said he had not laid down conditions for talks with rebels.
An estimated 250,000 people have been made homeless by the fighting between rebels and Congolese government troops.
"[Gen Nkunda] was kind enough to ring me three days ago and speak to me while I was in Nigeria," Mr Obasanjo said.
"He explained that he is full of expectations for us to meet and talk face-to-face."
Gen Nkunda's spokesman was quoted by the Associated Press as saying the meeting was likely to take place in the rebel-held town of Rutshuru, north of Goma, or Bunagana, on the Uganda border.
Gen Nkunda says he is fighting to protect his Tutsi community from attacks by Rwandan FDLR Hutu rebels who fled to DR Congo after the genocide.
Long process
BBC world affairs correspondent Mark Doyle, in Goma, says Mr Obasanjo's visit has raised expectations.
But, in reality, our correspondent says, the problems of DR Congo are so profound that this initiative may be the start of a long process rather than bringing any immediate results.
Mr Obasanjo's visit follows Friday's announcement that Rwanda and DR Congo had agreed to work together to deal with forces along their common border blamed for the 1994 Rwandan genocide.
Mr Obasanjo said he had had a 90-minute meeting with Mr Kabila in Kinshasa on Friday evening.
Asked if the president was ready to talk to Gen Nkunda, he said "he did not give anything that I would call conditions, but we are at the exploratory stage now".
Mr Obasanjo also met members of DR Congo's parliament and ambassadors representing UN Security Council members in Kinshasa on Saturday.
The United Nations says the conflict that began in August between Gen Nkunda's fighters and government forces has caused a humanitarian catastrophe.
On Friday, for the first time after weeks of fighting, UN aid workers delivered maize and lentils to the first of at least 50,000 hungry civilians in Rutshuru territory, about 70km (40 miles) north of Goma.
"I can't remember how many days my family hasn't eaten - I think about four or five days," said teacher Djuma Kabere.
"These are very small quantities. How can families survive? It's more important to bring peace instead of food."
Destabilising factor
Also on Friday, Rwanda and DR Congo agreed to co-operate in dealing with forces along their common border.
Foreign ministers from both countries said Rwandan intelligence teams would go into DR Congo to work with the Congolese army and the international community to help end the presence there of Hutu fighters, cited by Gen Nkunda as the justification for his rebellion.
The Hutu fighters - known as the Interahamwe - have lived in eastern DR Congo since 1994 and have been a key factor in destabilising the region.
The Congolese government has often promised to stop Hutu forces using its territory, but has not done so.
Its forces have been accused of instead working with the FDLR to exploit the region's rich mines.