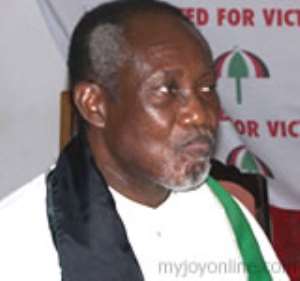 Listen to John Amekah
The Deputy General Secretary of the Democratic Freedom Party (DFP), John Amekah, has contested claims that the party is at the verge of collapsing.
In an interview with Joy News on Saturday, he said a party like DFP would not "die" by the mere defection of a handful of its core members.
"The party is not dying. In a family, people leave and people join," he countered.
John Amekah was reacting to the defection of the Ashanti Regional Secretary of the DFP, Opoku Mensah, who has announced his defection to the ruling New Patriotic Party (NPP). He joins the likes of Ms. Frances Awurabena Essiam and the former Interim Chairman of the party, Alhaji Abdul Rahman Isakah, who have already deserted the party.
MR. Poku said he left the party due to the lack of internal democracy and also accused party founder, Dr. Obed Asamoah, of hijacking the party.
However, the Deputy General Secretary has vehemently denied that their defection would adversely affect the fortunes of the party.
Mr. Amekah explained he was not perturbed by the defection because a lot more people from various political parties are joining the DFP, adding "we are not making noise about that".
He said the party is still strong and very determined to wrestle power from the NPP in the December elections.
He noted that the party has fielded parliamentary candidates across the country with its flag-bearer winning more support on his campaign trail.
He also maintained that Dr. Asamoah has been democratic, refuting the allegation of him (Dr. Asamoah) hijacking the party.
John Amekah has also asked the so-called big political parties to back off from the DFP because the party is not ready to go into alliance with any them.
Story by Isaac Essel