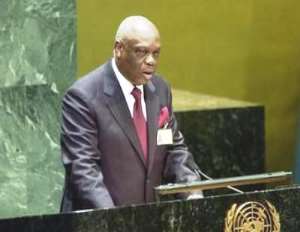 Speaker of Parliament, Ebenezer Sekyi-Hughes
Parliament yesterday,  began a break in readiness for the December polls, reminded the Electoral Commission (EC) that it had a crucial role to make the forthcoming Presidential and Parliamentary elections peaceful.
The leadership of the House in separate statements before adjournment till December 16, observed that the success of the elections will depend on the forthrightness of the Commission and its ability to ensure transparency.
Mr Freddie Blay, First Deputy Speaker, who sat in the chair, thanked members for their hard work  and urged them to endeavour to avoid violence at the polls.
He said the nation had reached a critical stage in her democracy  and called on contestants in the elections to accept the election results without any resort to violence.
'There would be losers and winners. Let us try to avoid any excesses, because we are all striving to serve this country,' Mr Blay said.
Mr Abraham Ossei Aidooh, Majority Leader and Minister for Parliamentary Affairs, said the success of next December polls and a smooth transition will be an indicator of the establishment of democracy in Ghana.
He noted that a lot of the success will depend on the Electoral Commission as well as the goodwill of the candidates.
Deputy Minority Leader, Doe Adjaho called on the security agencies to be alert to nip any violence in the bud.
Earlier, the House, which approved an amount of GH¢2,218,506,931 to carry out services and expenditure of Government from January to March 2009, also passed the Education Bill 2008.
The Education Bill seeks to incorporate the lessons learnt from over 50 years of state control and management of educational reforms and give substance to Ghana's constitutional provisions, which enjoins Government to 'provide educational facilities at all levels and in all regions' and make those facilities available to the citizenry.
With its 31 clauses, the Bill gives legal backing to the New Education Reforms and streamlines activities of the teaching profession in line with international best practices.
Thus, under Clause 9 of the Bill, there would be established a National Teaching Council to regulate, register and issue license to professionally qualified teachers.
A Report from Parliamentary Select Committee on Education Committee held the view that 'this will go a long way to safeguard and protect image of the teaching profession like other professions.'     
The House also passed the Railways Bill, which proposes the establishment of Railways Development Authority and infusion of private sector participation into the railways sector.