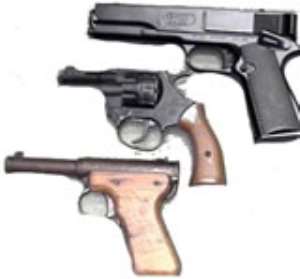 Vice President Alhaji Aliu Mahama, on Friday asked Ghanaians to erase the impression that the country is on the verge of imploding, anytime there is an impeding presidential and parliamentary elections.
"After the December 7, general election, life will still goes on. Children will continue to go to school, market women will still go to the market and sell their wares, workers will go to their various places of work and this beloved country of ours will still be Ghana, the beacon of hope for Africa."
Alhaji Mahama made the request when he supervised the destruction of a number of illicit weapons at a ceremony in Accra, which was organised by the Ghana National Commission on Small Arms and the United Nations Development Programme (UNDP).
He stressed: "Elections are just a civilised way of selecting people to govern. We may have our disagreements on the choices we make, but that should not stop us from our commitment to come together to develop mother Ghana," he said.
Alhaji Mahama noted that Ghana had worked very hard over the years to consolidate the democratic process and appealed to the citizenry especially the youth to resist any influence of being used to cause violence, before, during and after the elections.
"The Americans have done it and I know we can do it because we have been doing this since 1992," he said.
Alhaji Mahama said the proliferation of small arms and light weapons was a threat to peace, development and stability.
He said it was estimated that 90 per cent of people killed or wounded by light military weapons were civilians and most shockingly 80 per cent were women and children.
"This weapons destruction ceremony is to symbolise our commitment and determination not to use weapons to perpetuate violence and conflicts, especially in the upcoming presidential and parliamentary elections."
Nana Obiri Boahen, Minister of State at the Ministry of Interior, called on Ghanaians to use dialogue as the means of resolving conflicts, since the recourse to arms would run down the country.
He said people harbouring small arms should be reported to the security agencies.
Mr. Dauoda Toure UNDP Resident Representative expressed the need for the State to give alternative livelihoods to people dealing in small arms to encourage them to give up the trade.
Alhaji Gado Mohammed, of the office of the Chief Imam cautioned the youth to shun violence, stressing that their future is at stake if they allow themselves to be influenced to be agents of trouble.