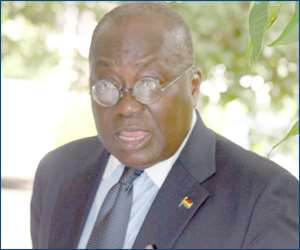 THE DANQUAH Institute, Ghana's leading centre for research and political analysis, has conducted a nationwide survey of voters' intentions ahead of the general elections in December.
The poll asked prospective voters who they think will win the 2008 presidential elections, as well as who they would vote for in case there is a runoff between the two leading candidates.
Of those who took part in the survey, 56 percent predicted a win for Nana Addo Dankwa Akufo-Addo, the New Patriotic Party's (NPP's) flagbearer.
This constituted a clear lead over the next most favoured candidate, Prof. Evans John Atta Mills, with 33 percent. The CPP was predicted to succeed 4 percent of the votes that would be cast, with the remainder mostly undecided.
Judging by these figures, the NPP candidate can expect to win the popular vote by a clear margin of almost one quarter of the electorate in the first round.
Respondents were also asked to name the candidate they would vote for in the event of a second round runoff between the NPP and NDC candidates. Fifty-seven percent told the survey team they would choose to vote for Akufo-Addo, confirming the general conclusion of the Danquah Institute's researchers that the NPP candidate has the upper hand.   
Research teams traveled to all 10 regions to achieve an accurate sample of 3,483 people. Respondents were asked for their views on what to expect when Ghana goes to the polls in a month's time.
Eighty-two percent of those surveyed were voters under the age of 44, of whom 41 percent were in the key 22 to 32 age range. The proportionate representation from all 10 regions and of each age group makes this the most accurate picture yet compiled of the nation's voting intentions.
The survey's margin of error is just 1.66 percent with a confidence level of 95 percent.