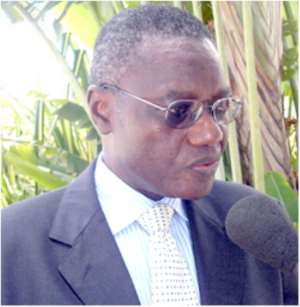 Trade in West Africa is worth $20 billion a year, which is 50 times official current figures according to estimates from the International Food Policy Research Institute (IFPRI).
This clearly is an indication that opportunities are there to increase intra-regional trade to contribute to the overall growth of the region.  
Speaking at the opening of a three-day workshop to assess the value chain of onions, shallots and ruminant livestock in Accra, the Chief Party of Agribusiness and Trade Promotion (ATP), Ishmael Ouedraogo, observed that trade potentials in West Africa have not been fully tapped due to several constraints including tariff and non-tariff barriers which increase transaction cost and time; transportation difficulties such as bad roads and harassment; weak private sector advocacy; weak linkages among value chain actors.
ATP is being funded by USAID with an amount of $16.9 billion to run the Agribusiness Trade Promotion Project (ATPP) which aims at increasing value and volume of intra-regional agricultural trade in the sub-region in order to achieve the 6% agriculture growth target set under the Comprehensive Africa Agriculture Development Programme (CAADP) of the Africa Union's New Partnership for Africa's Development (AU-NEPAD).
The four-year project is hoped to eventually reduce all the barriers that hinder smooth trade in the region. It is observed that ruminant livestock has a very large market since meat is consumed on a large-scale in the region.
However, most coastal markets in the region are flooded with meat imported from Europe and North America, due to the fact that slaughter of livestock is done at unsanitary places with limited refrigerated storage for chilled meat.
Also, live animals are shipped in trucks which are ill-adapted for long transport.
Sheep, goats and cattle raised in the Sahelian region, therefore comprise important commodities in the region's coastal countries.
Cereals such as maize whether for human consumption as foodstuff, beverage, and oil or for animal feed, are of great importance in intra-regional trade.
Commercial trade of sorghum and millet also has strong potential for development.
Improved storage, processing, packaging and distribution are essential to the cereals value chain.    
Onions and shallots are regarded as important ingredients in regional cuisine resulting in the rise of cultivation and consumption in the region. They have become one of the most widely traded raw vegetables in West Africa and are the cash crops of most farmers in the Sahelian region.
Currently, only six West African countries namely, Mali, Burkina Faso, Niger, Benin, Nigeria, Cote d' Ivoire and Ghana are benefiting from the programme which would later be spread across the region.
The Cognizant Technical Officer (CTO) of USAID West Africa, Michael Wyzan among other dignitaries was at the opening. The ATP project is ably supported by Abt Associates Incorporated, CARANA Corporation, ACDI/VOCA and the International Business Express (IBEX).
By Rocklyn Antonio