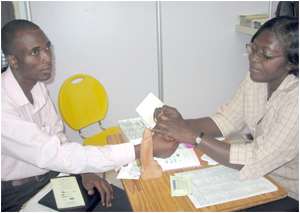 THE GHANA AIDS Commission (GAC) in collaboration with the Ministry of Health (MOH) and other development partners has made available adequate funds and logistics to enable majority of Ghanaians access the Voluntary Counselling and Testing (VCT) free-of-charge.
Over 400 testing centres including all public hospitals have been created for the nationwide exercise which is currently on-going.
The exercise forms part of activities marking this year's World AIDS Day which falls on Monday December 1st and it is aimed at encouraging more people to know their HIV status.
It is being commemorated under the theme, "Leadership, Reducing Stigma and Discrimination."
Statistics indicate that less than 10 percent of Ghanaians know their HIV status, hence the move by stakeholders to augment the 'Know Your Status Campaign' to allow more people know their status at no cost.
Professor Sakyi Awuku Amoa, Director-General of the Commission said a total of 55,000 Ghanaians, 10,000 of who are in Greater Accra, have been targeted to freely access the service by the end of this month.
Speaking at a ceremony to formally launch activities marking the day, Prof. Amoa said the focus this year is on the need for more people to know their status considering the devastating nature of the pandemic not only in Ghana but the world at large.
"Among the objectives for this year is to enhance and advocate for leadership and accountability towards addressing the HIV epidemic in Ghana at all levels by engaging everybody in decision-making at the national, regional, district, community, family and individual levels.
"It is also aimed at helping to reduce stigma and discrimination as well as increase up-take of counselling and testing services."
He called on Ghanaians, especially those who are ignorant of their status, to take advantage of the exercise to access it at no cost.
Vice President Alhaji Aliu Mahama whose speech was read on his behalf by the deputy Health Minister, Gladys Ashietey, expressed government's commitment towards supporting the national response of HIV and AIDS.
He reiterated the call on Ghanaians to redouble their efforts towards the prevention of new HIV infections.
The occasion, chaired by Prof. Fred Torgbor, Presidential Advisor on HIV & AIDS and Reproductive Health, was addressed by representatives from the UN, SWAA Ghana, USAID and the Association of People Living With HIV & AIDS (NAP+Ghana).
Advocacy sessions with market women, particularly porters (kayayei), on the benefits of knowing one's HIV status is among the activities lined up to commemorate the day.