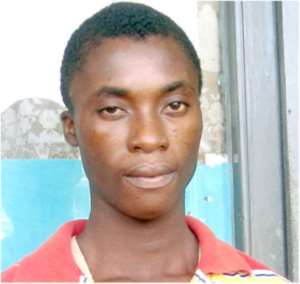 A KUMASI CIRCUIT Court has sentenced three young but notorious armed robbers, who belong to two separate robbery gangs in the city, to 25 years' imprisonment each.
The court chaired by His Worship, Mr. Emmanuel Amoh Yartey handed the punishment on Wednesday, November 12, 2008 based on evidence presented against them by the prosecution.
The court arrived at the verdict when the convicts namely Abdulai Banaba, 18, Kwabena Nsor, 16 and Prince Osei, 19 pleaded guilty to charges of robbery, attempted robbery and causing harm made against them.
Prosecuting, Chief Inspector Fosu told the court that on September 26, 2008 Banaba and Nsor, in the company of two other suspects who are currently at large, armed with locally-made pistols went to Kwadaso, a suburb of Kumasi where they attacked a household.
He said the convicts first took a certain Mavis Oduro hostage and at a gun point ordered her to show them her grand mother's room or risk being shot dead.
According to Inspector Fosu, when Mavis, who identified Nsor as somebody she knew very well, refused to yield to their orders, the convicts inflicted deep cutlass wounds on her in the arms and the left thigh.
The prosecutor said as Mavis was bleeding profusely she screamed, which woke up her grand mother who also shouted for help thus attracting the attention of members of the neighbourhood committee who managed to arrest Banaba and Nsor.
Inspector Fosu told the court that their two accomplices whose names were given only as Baba Azumah and Baba, however, managed to escape.
In a related development, the court sentenced Prince Osei, 19, to 25 years' imprisonment for robbery. He pleaded guilty to the offence.
According to the prosecution, Osei went to Awomaso on October 15 with a locally-manufactured pistol and robbed a certain woman and her daughter of their mobile phones and five bottles of wine.
Thereafter, the victims made a report to the Police at the Kwame Nkrumah University of Science and Technology (KNUST) in Kumasi.
The following day one of the women spotted the suspect around Awomaso and when she raised alarm the convict was apprehended and subsequently handed over to the police.
From James Quansah, Kumasi