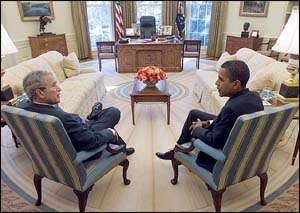 BARACK Obama talks with George Bush yesterday in the Oval Office where he will soon sit as President. The senator chatted with the current US leader just feet from the famous White House desk where he will undertake his historic rule as America's first black president.
The meeting took place as Mr Obama and his wife Michelle made their first visit since his landslide election win to the Washington landmark they will call home from January 20.
He and the President had a private two-hour discussion in the Oval Office on problems at home and abroad in a meeting described by a Bush spokeswoman as "constructive, relaxed and friendly".
Mr Obama's transition spokeswoman Stephanie Cutter said the president-elect thanked Mr Bush for both his hospitality and transition help.
"They had a broad discussion about the importance of working together throughout the transition of government in light of the nation's many critical economic and security challenges," she said.
Mr Obama and Mr Bush posed with their wives for photographs at the South Portico of the White House before the two leaders entered the Diplomatic Reception Room.
The President also gave Mr Obama a peak at highlights of the building, including the bedroom Abraham Lincoln used as an office.
Meanwhile, First Lady Laura gave his wife a tour of her historic soon-to-be new home — built with the help of black slaves.
The two wives later had their own chat in the private residential quarters of the home.
Crowds
President Bush and Mr Obama — who criticised Mr Bush's "failed policies" in his campaign — earlier shook hands and smiled for a photo when they met at the South Portico.
The senator and his wife flew to Washington from their home in Chicago, after Mr Obama had earlier dropped off daughters Malia, ten, and Sasha, seven, at school.
Crowds gathered outside the White House hoping to glimpse the new First Couple.
Top aides of Mr Obama said he is examining ways to make a quick impact upon taking office, including reversing some key Bush decisions.
The 44th president is expected to review policies on stem cell research, oil exploration and other issues.
Transition team leader John Podesta said: "There's a lot that the president can do using his executive authority without waiting for congressional action, and I think we'll see the President do that."
His team also wants the government to consider "fast-forwarding" £16billion in low-interest loans approved by Congress to help US car manufacturers.
Mr Obama, 47, and Mr Bush, 62, had last met at a White House reception in 2005.
Then, the President told him he had a "bright future" but warned him "everybody'll be waiting for you to slip".