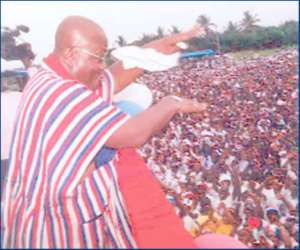 MANY BIGWIGS of the New Patriotic Party (NPP), the ruling party which has an elephant as its symbol, have pulled the plugs on Prof. Atta Mills, flag-bearer of the National Democratic Congress (NDC) and questioned the audacity with which he desires to become President of Ghana.
The NPP big shots, wagging their fore-fingers skyward, took the old professor to the cleaners in separate speeches they delivered at a constituency rally the party held at Ayawaso East last Friday.
Jake Obetsebi Lamptey, NPP National Campaign Chairman, questioned the authenticity of the "I Care for You" mantra of the NDC flagbearer, and told his party's supporters that Prof. Mills was not a man with a caring heart.
Mr. Obetsebi Lamptey said Prof. Mills did absolutely nothing when ex-President Rawlings was behaving in a manner that contradicted the constitutional and human rights of Ghanaians.
"Mills does not care… I can't entrust my life into his hands," he added, and gave instances where the NPP flagbearer, Nana Akufo-Addo, stood to defend the rights of Ghanaians even at the peril of his life.
Member of Parliament (MP) for Dome Kwabenya and NPP guru, Prof. Mike Oquaye slammed the NDC and its flagbearer for linking the victory of the Democrats in the United States to what they hope to achieve in December.
"It is funny for the NDC to say that if the Democrats have won, then they would win in Ghana. That is funny because Obama is a democrat, he respects human rights and unlike Prof. Mills, he was seen very actively on the campaign platform moving from one place to another.
"Mills on the other hand is out of coverage area after the IEA debate," Prof. Oquaye noted.
He maintained that nobody engages in change for the sake of it, and that when something is in a good shape and the manufacturer is still in charge, you do not change and go for a modifier.
Kwabena Agyepong, who contested the NPP presidential primary and now a member of the party campaign team, added that the NDC flagbearer "cannot campaign so he has sent Rawlings to take over the campaign".
He contended that a vote for Prof Mills is an indirect vote for former President Rawlings.
He stated that the former President was taking advantage of the campaign to malign government officials and any person he perceived as a political rival.
"Rawlings is not the only person in Ghana and Ghana does not belong to him for him to be insulting people like that. Whether he likes it or not, Nana Akufo-Addo would win the elections come December 7."
Nana Akufo-Addo, in his address, said Ghana was not ready to put its destiny "into the hands of incompetent, ineffective and unproductive leaders," stressing that Ghanaians on December 7 this year would vote for the NPP to  prove that the country is ready to move forward in its developmental agenda, rather than retrogress.
He intoned that an NPP-led government from 2009 and beyond would ensure that every Ghanaian child gets an equal opportunity to education and gets a good job after school.
Nana Addo promised to give priority to industrial development, health, agriculture, education and employment generation.
By Halifax Ansah-Addo