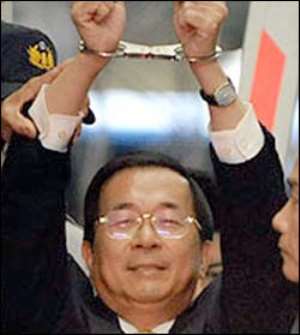 Taiwan's former President Chen Shui-bian has been detained in connection with corruption claims. Mr Chen spent much of Tuesday being questioned by prosecutors in Taipei, before being led away in handcuffs.
He is accused of money laundering and illegally using a special presidential fund during his eight years in office, which ended in May.
He denies any wrongdoing, and accuses the new administration of persecuting him to bow to the wishes of Beijing.
Mr Chen is an ardent supporter of Taiwanese independence, and a trenchant critic of President Ma Ying-jeou's Kuomintang (KMT) administration, which he accuses of pandering to Beijing.
His arrest comes days after a historic visit to the island by a senior Chinese envoy was marred by violent protests.
Political persecution?
The former leader, who held power from 2000 to 2008, spent more than six hours in the prosecutor's office on Tuesday answering questions about corruption.
As he was led out towards a waiting vehicle, he put his handcuffed hands in the air and shouted "political persecution" to an audience of dozens of protesting supporters.
"The KMT and the Chinese Communist Party see me as their number one prisoner as I am the biggest stone blocking their way to reunification," Mr Chen told reporters, according to the French news agency AFP.
He said the Chinese envoy, Chen Yunlin, "had a bad time in Taiwan... so Ma Ying-jeou wants to put me in jail as a sacrifice to appease China. I am very honoured and proud to play such a role."
And the former president vowed not to be "imprisoned in vain". Although he has been detained, it appears he has yet to be formally arrested. However he clearly expects to be, and said so at a news conference earlier in the day.