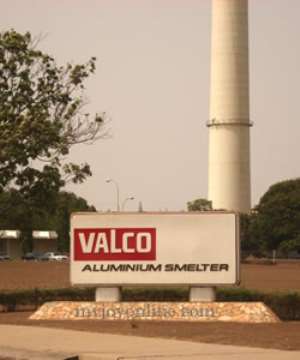 Companhia Vale do Rio Doce, otherwise known as Vale, the iron-ore giant out of Brazil and penciled as one of two foreign establishments to partner the Volta Aluminium Company, VALCO, in the sale and purchase of 70 percent stake in the Ghanaian aluminum smelter, has explained that the global financial turmoil forced it to suspend its pre-feasibility study in VALCO.
Norway's Norsk Hydro, the other partner, and Vale have since early this week disclaimed any commitment to deals in the VALCO sale, after Parliament approved the sale agreement worth US$175.5 million late last week.
Government officials however insist there is a deal.
Minister for Trade and Industry, Papa Owusu Ankomah and Chief Executive Officer of VALCO, Dr. Charles Mensah have both maintained that the deal still holds, with the latter explaining in an interview with Joy FM that it is only the Norwegians who have pulled out.
However, a news item by the Chinese news agency, Xinhua, quoting Vale CEO Roger Agnelli said the global industry leader has decided to reduce aluminum operations globally due to the financial turmoil as well as high energy costs, and "will therefore suspend a pre-feasibility study for a bauxite and aluminum project in Ghana."
The publication explained that the company considered the difficulties firms around the world are facing due to the financial meltdown which has led to weaker demand for iron ore from many of Vale's clients.
And while the company did not intend to "offer any sort of discount or renegotiate the prices stipulated in the long-term contracts with its clients," it was suspending its prefeasibility study of the Ghana project.
The controversial sale has seen members of the opposition National Democratic Congress accuse government of hoodwinking parliament into approving a premature deal, with a leader of the party calling for the removal from office of the Energy Minister.
Dr. Kwabena Donkor, spokesperson on Energy for the NDC, says the failed deal is an embarrassment for the nation, and without due diligence, smacks of incompetence on the part of the government.
Story by Isaac Yeboah