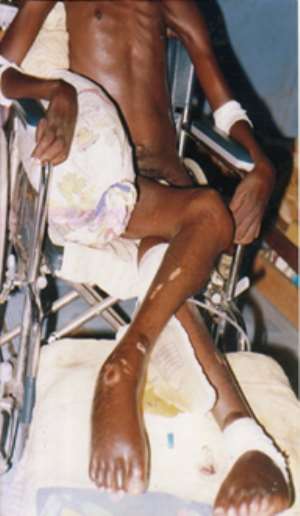 LAC Abraham Zinyire, 27, says he has no regrets joining the Ghana Air Force even as he has for close to five years been confined to the distress of a sick bed at the 37 Military Hospital in Accra.
He was only paralyzed when he was flown to the hospital. But now, contractions and bare sores have taken over his body, eating deep into his skeleton and gradually snatching him away from life.
His arms are stiff and bent inwards from the wrists. His legs look contorted, shrunken and scaly, but puffy at the same time. They seem to be moving away from each other. He cannot sit up and lies flat on his back, constantly staring at the ceiling. To avoid the bare sores and be able to sit up, his doctor advised, his legs have to be amputated. He refused.
LAC Zinyire was 21 years old when he joined the Ghana Armed Forces. With an aim to rise through the ranks, he enrolled on the Physical Instructors Trainers' Course at the Teshie Military Academy in Accra.
On one fateful day in April 2004, during a training exercise known as front somersaulting, Zinyire somersaulted and landed not on his legs but on his neck, breaking it.
He became paralyzed instantly. He was quickly flown to the 37 Military Hospital, where he was operated upon.
"But since then I have not been able to sit or do anything," he tells Public Agenda on his sick bed at the hospital.
Close to five years now, in a worsening condition, Zinyere wishes he could go home. "I can't stay here forever. I definitely have to go home some day. So they should plan to make me feel comfortable at home than keep me here forever."
But he is also aware of the implications of such a decision. 'My problem is; I am paralyzed, I am not just sick and you know as a paralyzed person you need someone to take care of you."
Even now, his drugs and other needs that the authorities supply do not come as they use to. His family is thus compelled to buy some of the drugs. This reporter saw prescriptions to that effect.
"Initially, I was not buying anything. But now I have to buy my own drugs, pampers and Charley, everything. So between me and the civilian there is no difference. If I do not get money for the drugs I stay without it. So if it is death I have to die."
Meanwhile, Zinyire falls sick easily and frequently, especially with malaria. "Even one mosquito bite gives me malaria. But at times when you go to the dispensary, they tell you there is no drug. Even if there is, they give you an inferior one."
Zinyire's family is not a rich one. He is the first of six children and the one on whom the family's hopes rested; his father haven died a month after he had joined the military. His mother is jobless and helpless. His younger sister, an SSS graduate; who is always by him, feels incapacitated too. She had plans for further education, but is held back by her brother's near deadly condition.
Zinyire himself joined the army with an SSS certificate. His aim was to further his education. His brain seems to be in perfect order as he cogently, but faintly narrates his plight in flawless English. But his body could simply not support it.
"Why didn't they fly me out for treatment?" is the question on his lips. He says the authorities intend to compensate him. "But it is not enough to be able to sustain me for the rest of my life. I can't even build a house. I have no regrets joining the military, but they are not doing enough for me."
But he is not sure exactly what, as by law established, he is due. "Because I am sick, I just take everything as normal. But what is in the book; what they are giving me, whether right or wrong, I don't know. It is not easy oo, my brother."